With a goal of commitment, innovation and design excellence, Sanjay Puri Architects invent new methods to resolve complex architectural problems.
The hallmark of the architectural firm Sanjay Puri Architects lies in its innovative solutions which are contextual, sustainable and exciting, while being functional. Over the years, the firm has designed various design challenges on different scales. It concentrates its design ideologies on new material applications and opportunities offered by new building techniques, lighting to name a few.
With a diverse portfolio of townships, schools, hotels, retail, and office buildings, they continue their quest for creating innovative design solutions that are sustainable on a large scale. Here are some of the projects undertaken by this internationally-acclaimed architectural firm that reflect their strong design skills and passion for design…
18 Screens, Lucknow
Keeping the location and the surrounding in mind, the house is inspired by the traditional Indian courtyard house. The architect has incorporated patterned screens inspired by traditional Indian architecture and the famous Lucknow 'chikan' embroidery sheath. This six-bedroom house is interspersed with sheltered open terraces and landscaped gardens around a two-floorhigh naturally ventilated courtyard. Large glass windows on the northern side allow indirect light to infuse the internal spaces of the house. Varying volumetric proportions with differing sectional spaces create an individual identity for each living space with the courtyard cohesively integrating them.
Built almost entirely in raw concrete, a natural palette of sandstone and wood with muted colours, vivid Indian art and landscape are brought together in different compositions in each of the internal volumes.
Mirai House Of Arches
Based on the location, the southern and eastern sides have minimum open space with adjacent villas on those sides to be built in the future. The northern and western sides facing a road junction have more open spaces with garden areas and existing trees. Sectionally, the heights within are varied with an interesting play of volumes in each part of the house, bedrooms of a single volume, dining area of a double volume, and a living area of an intermediate 1.5 level volume.
A curvilinear punctuated envelope surrounds the house, creating interstitial semi-open spaces all along the perimeter with deeper recesses on the garden-facing sides. This envelope reduces the heat gain substantially, whilst providing sheltered open spaces around the house to each room.
Built of locally sourced bricks, sandstone, and lime plaster with local craftsmen and contract labour from the immediate vicinity, the project has water recycling, rainwater harvesting, and solar panels for energy generation. The house is built sustainably and is climate responsive.
Office @ 63
A series of architectural volumes create this office space for a furniture contract company within their factory. The large reception space is punctuated by a 36' high seating area in the form of elliptical pods floating in a shallow reflecting pool at one end, and a landscaped courtyard at the other end.
Each of the spaces within the office is formed by elliptical volumes that create organic circulation spaces between them. A material palette of glass, metallic paint walnut, and wood, sound insulation boards, cork, and concrete accentuate each area differently.
Lighting is integrated with the design in multiple ways. Perforated partitions of wood fused with Plexiglas, ceilings of pyramidal modules, and a conference room with an installation of aluminum pipes are all infused with lighting.
Each of the workstation areas, the discussion rooms, the cabins, conference room, multi-functional space and video conferencing room based upon the client's brief is individual in identity and arranged organically over three levels, forming an architectural interior with a composition of varying volumes.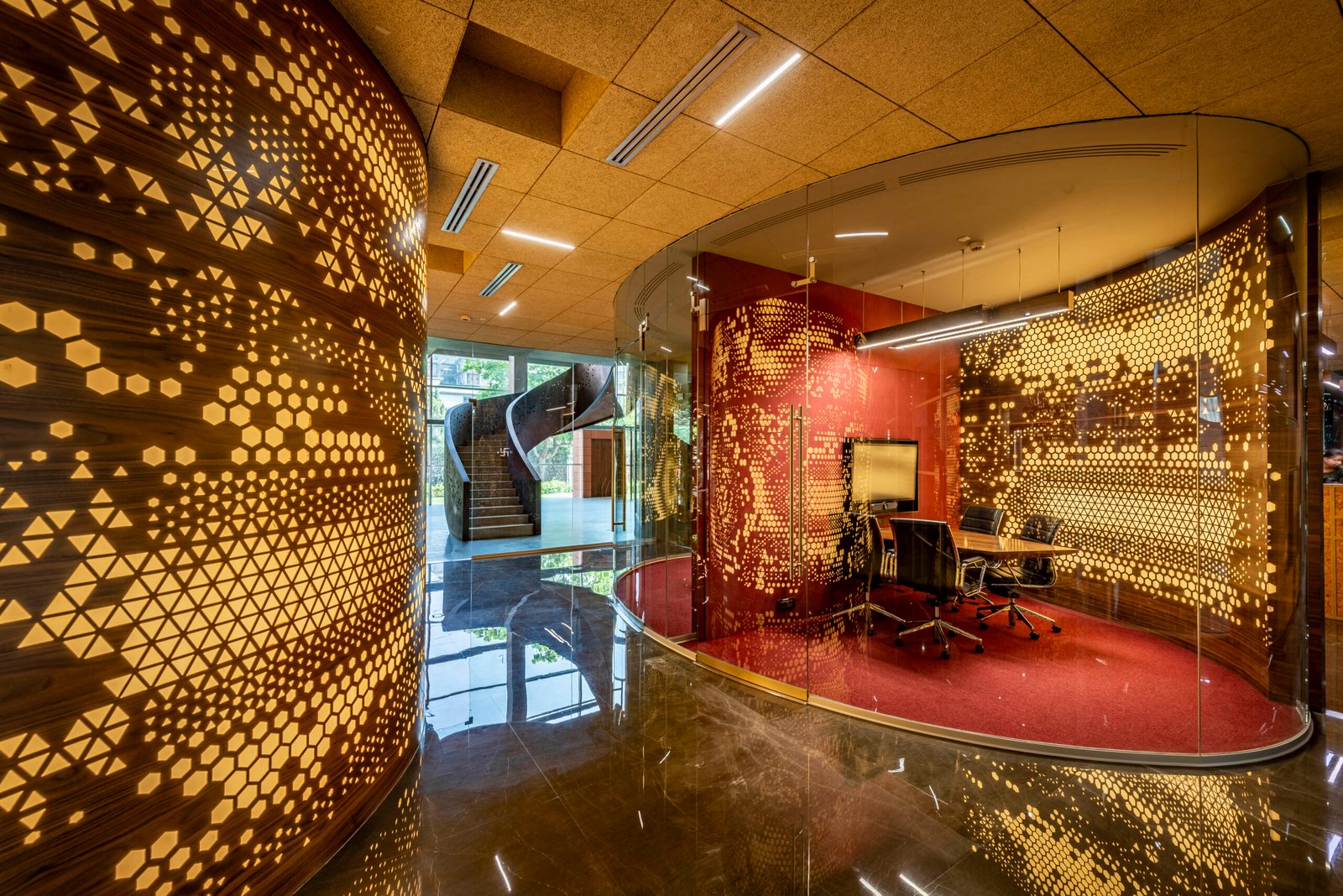 The Courtyard Office
A linear office space twists organically in plan, creating a large landscaped courtyard within it. Varying from two to four levels sectionally, the office floors are lifted from the ground at the south-west and north-east sides to facilitate a south-westerly breeze through the courtyard.
With all areas naturally ventilated and naturally lit, the indoor spaces are breathable and not dependent on air conditioning and artificial lighting, thus rendering the building energy efficient. The external fins are angled as per the direction of the sun, reducing heat gain and glare, creating a comfortable environment for the users.
Excerpted Article Courtesy: Our sister publication 'Society Interiors & Design'