Life's taken on an added sheen post the praise — and the very desirable awards — that have come her way post 'Mimi'. It's no wonder that expectations are sky high now from a cracker called Kriti Sanon…
By Nichola Marie
This August, Kriti Sanon beat out stiff competition from powerhouse performers – Vidya Balan ('Sherni'), Taapsee Pannu ('Rashmi Rocket'), and Parineeti Chopra ('Sandeep Aur Pinky Faraar') – to clinch the Filmfare Best Actress trophy for her performance in 'Mimi'. No more will even the 'Oh-I-don't-follow Bollywood' types among us say, 'Kriti who?'! Starting strong You've got to hand it to the girl, who came in from the outside, minus a powerful godfather or influential star parents, to carve her own space, inching enticingly close to the top. In fact, hits have become rather a habit for Kriti Sanon over the eight years, since she made her debut with the Telugu psychological thriller '1: Nenokkadine' (2014). The same year, she debuted in Hindi films with the hit romantic actioner 'Heropanti' (2014), opposite Tiger Shroff. While the title itself suggests the hero would occupy centre stage, Kriti surprisingly won attention in this love story set against a feudal Haryanvi backdrop. Her bratty Dimpy Chaudhary was well-received by audiences, even though the film itself garnered mixed reviews. It was really no surprise when hers was adjudged the Best Female Debut of the year at the Filmfare awards.
So, was she to be just another pretty face, in pretty pictures? Nah. She pulled off the bohemian small-town girl act with aplomb in 'Bareilly Ki Barfi' (2017), starring as Bitti Mishra, an independent-minded woman who cares a fig about patriarchal society's rules. It was interesting to see her shed her urban image and step out of her comfort zone, mouthing dialogues like, "Tum kaahe liliya rahi ho (Why are you anxious?)." One critic went so far as to say, "The burden of making 'Bareilly Ki Barfi' work rests upon Kriti Sanon and she doesn't put a foot wrong."
The film's success had her admitting that all the appreciation "makes you feel much more confident to step out of the comfort zone and try something different. Now, 90% of the films I'm offered are stories based in small towns. People are looking beyond all the glamour, which is good."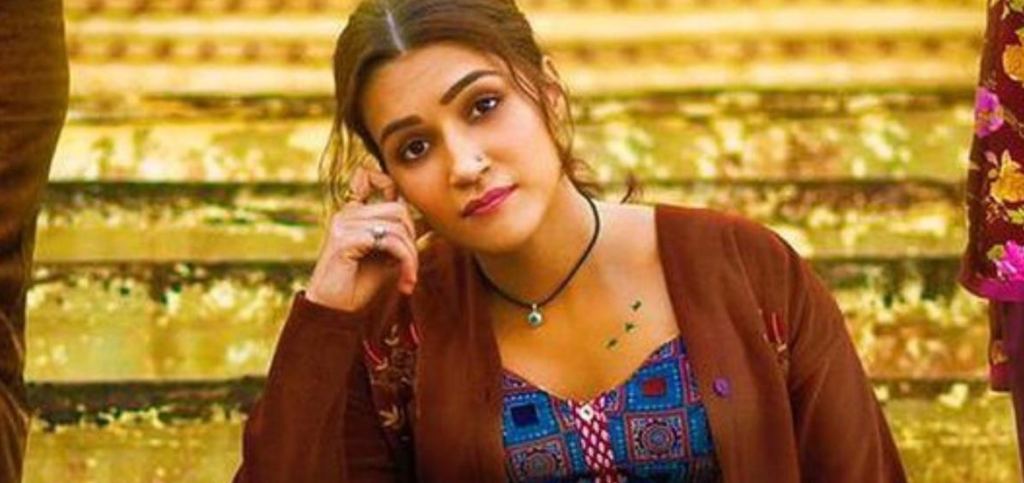 Putting on a good act
The 2019 romantic comedy 'Luka Chuppi' followed, also a commercial success. Set in Mathura, it revolved around a television reporter who cohabits with his headstrong intern; and the chaos that ensues when their traditional families assume them to be married to each other. Starring opposite Kartik Aaryan, Kriti as Rashmi Trivedi was hailed for her "fantastic screen presence" and spontaneity. She was noted to be "finding her feet in comedy, having a gala time of it all in the process."
Box office bounty, which had come her way in the ensemble comedy 'Dilwale' (2015), was repeated in the reincarnation comedy 'Housefull 4' (2019). Which is not to suggest that she hasn't seen her share of damp squibs; they have been arriving too from 'Raabta' (2017) to 'Arjun Patiala' (2019), 'Panipat' (2019), and more. Yet, she has managed to conduct herself admirably even in the duds, winning positive strokes for confidence and the ability to shine even in a relatively small role.
Stardom – here she comes
And then came 'Mimi' (2021), featuring her in the titular role of an aspiring actress who becomes a surrogate for a foreign couple to earn money to fulfil her dreams. The film was hailed for its "delightful blend of humour and emotions", one "that might make you cry, laugh and smile all at the same time". While the film received highly positive reviews for its direction, story, screenplay, music, humour, emotional heft and cast performances, it was also unanimously declared to be Kriti's best performance to date. Shouldering the film with her craft, 'Mimi' was dubbed her labour of love all the way. Her Best Actress win at Filmfare was a heady high for the jubilant actress, who penned a gratitude note after receiving the award, "I ain't sleeping alone tonight! Heart is full…#Gratitude. The black lady is finallyyyyy here. Thank you @filmfare for this much-needed validation and for making my dream come true." Her performance also bagged her the IIFA Award for Best Actress.
Not stopping here
All eyes are now set on her upcoming epic-driven 'Adipurush', co-starring Prabhas and Saif Ali Khan, to be followed by the actioner 'Ganapath', and 'Bhediya', among others. Already the darling of the media, her directors and co-stars for her non-starry, straightforward attitude, she also endorses a range of brands from Fossil to Cadbury Fuse, and Bata. She also launched her own fitness company and apparel line. And heck, she even made it to the uber-exclusive guest list on 'Koffee With Karan' – if that isn't validation, what is?! Through it all, she isn't letting her heart rule her head, despite talk of a rumoured romance with the hunky Prabhas. For there's no one who believes more strongly that the best is yet to come for Kriti Sanon, than Ms Sanon herself!
She Said It!
Conversation clips from various interactions…
"I felt that I had more potential, and I wasn't getting the right kind of opportunity to tap into those parts of me and bring out a layered performance. When 'Mimi' came my way, it felt like the perfect film to take up as the main protagonist."
"I want to be in a completely massy entertaining film and, at the same time, I also want to do a film that has a strong message and says something important that I believe in."
"I had not been a trained actor, I had not done theatre and I never thought earlier of becoming an actor… so whatever I have learnt has been on the job, it's been on the set. I'd rather have a steady curve and grow with the characters that I am doing than be on the top and get everything in my second film or third film, and then be lost because I don't know where to go from there."
"I do also believe that relationships matter a lot. If you are not taking the people who are with you forward, then you're going to end up walking alone eventually and there is no point in that."
‌