Chief Minister of Maharashtra, Shri Eknath Shinde, has coined a new term for his post. "CM means Common Man" – he smiles, and opens up about politics, remaining grounded, his struggle, his aspiration for the state of Maharashtra, and his passionate drive to fulfil the dreams of its people.
By Andrea CostaBir
Maharashtra's newly minted 20th Chief Minister is undoubtedly a "people's man". My team and I went to 'Varsha' (the official residence of the CM in Mumbai) to meet him, and we were met with hordes of people from the interiors of Maharashtra, queuing up endlessly to show their support for the Chief Minister. As they entered the gates of 'Varsha' and he came out to meet them, they were overjoyed! Amidst their vociferous pro-Shri Eknath Shinde sloganeering, his warm acknowledgment of the same, and the ensuing cheering… we met the Chief Minister.
Excerpts from our interview…
You recently took over the reins of Maharashtra. What is your overall vision for the state, and what is your top priority for the state right now?
The Central Govt. has announced its aim to take the Indian economy to US$5 trillion. Maharashtra is the growth engine of India. It is our aim to take Maharashtra's economy up to US$1 trillion by 2027, and US$3.5 trillion by 2047.
Agriculture, health, education and infrastructure are our main areas of focus. Our priority is also development of new and expert skills, construction and city development, land administration, economy, tourism, sports, energy transmission and atmospheric changes, big and small industries, information and technology, supplementary services and transport.
We have started the Maharashtra Institution For Transformation (MITRA), with Maharashtra being the first state to start such an institution. A conceptual technical and work process think tank for the development of Maharashtra, it will give advice to various departments of the Govt. of Maharashtra. Recently, I also met with the team of NITI Aayog (the apex public policy think tank of the Government of India) to discuss various growth initiatives.
We realise that the Metro and Coastal Road projects across the length and breadth of Mumbai are set to change the face and dynamics of the city. Mumbaikars are excited and eagerly awaiting the commencement of these new infrastructure projects. What is their current status?
Yes, definitely, the Metro, Coastal Road as well as the Mumbai Trans Harbour Link (MTHL) will change the face of Maharashtra. Almost 84% of the MTHL work is complete. The highly improved connectivity will result in growth centers viz. industrial, logistics, IT, food, textiles and pharma parks; data centres; and export processing zones being set up in Raigad District at Pen, and at Poynad near Chirle. This will lead to townships and a whole new ecosystem that creates employment opportunities and drives economic growth. All this will help build Maharashtra into a trillion dollar economy in a few years.
We are planning to inaugurate the Coastal Road by 2023 as a major part of the work is already complete. I personally visit the site and take a detailed report regularly. Also we have shifted the car shed of Metro 3 from Kanjurmarg to Aarey Colony. It was delayed due to the decision taken to start the car shed at Kanjurmarg some time back, resulting in a cost increase. By 2026, we are planning to complete the 337km stretch of the Metro network. A lot of changes will be seen in the Mumbai Metropolitan Region soon.
All Mumbai's important projects are slated to be completed by 2027. Around Rs.1 lakh crore (Rs. 1 trillion) worth of MMRDA proposals are in the pipeline. We are trying to increase environment-friendly transportation so that its share goes up by 30%. Our main aim is to bring the travel time down to 1 hour from Virar to Nariman Point, and 12 minutes from the mainland (Navi Mumbai) to Mumbai.
Any specific plan to make Maharashtra an environment-friendly, clean and green 'Jewel of India'?
Thanks to our Swachh Bharat movement, we will get a nice, clean and dirt-free city. In the future, recycling of wastewater will be given top priority, and the Municipal Corporation will also get revenue from this process. All types of waste are not a problem, but it will be the main factor in creating revenue. Essential farm inputs like fertilizers will be produced by well-planned management. Sanitation projects like Robo drainage and gutter cleaning, a new concept for us, are also being implemented.
In the next two years, we have planned to make the cities of Maharashtra waste-free and change their look. Keeping this in mind, new environment-friendly startups will be given an opportunity. The environment is certainly an important factor for our development. For example, we are building the Hindu Hruday Samrat Balasaheb Thackeray Samruddhi Mahamarg; a green expressway. Many trees were cut during the construction of this highway, but we have now planted around 11 lakh trees. We are also building around 200 farm ponds and dams along the highway. This Nagpur-Mumbai highway will be a game changer project. Also, we are bringing e-vehicles into public transport on a large scale.
A project close to my heart is the 'Missing Link' project on the Mumbai-Pune Expressway. This project will make a huge difference to the people once complete. It includes a viaduct, a cable-stayed bridge, and a 10.55km tunnel, which will be the widest tunnel in Asia. It is being constructed more than 150m below the Lonavala lake. Set to open in December 2023, it will reduce Mumbai-Pune travel time by approx. 30 minutes.
Coastal area management plans of Palghar, Thane, Raigad, Ratnagiri and Sindhudurg districts have also been given permissions. This has resulted in giving basic social facilities to residents along the coastal roads. Fishing and other traditional businesses will be possible for Koli citizens. Temporary tourism facilities can be permitted along the coastal road too. Mangroves on State Government land will be safely guarded.
You are considered a people's man. You spend a lot of time interacting with the people of the state. What do you learn from them when you engage with them?
I consider myself an ordinary social worker and this helps me stay grounded. More than half of my life has been spent in sangharsh (struggling) for the people's cause. Shiv Sena always works by doing 80% social work and 20% politics. We are not born to rule. Rather, we have always brought the problems of the people to the Government's notice. Agitation is in our blood, and we have not done all this to come to power. We live by the thoughts of Hindu Hruday Samrat Balasaheb Thackeray and Dharmaveer Anand Dighe – and these thoughts are our 'oxygen'.
You decided to enter public life and chose politics as a career. Please tell us a little about your life's journey.
I don't aspire to any post. Solving people's problems is my only dhyeya (life's goal). My native place is Darey village in Mahabaleshwar taluka, Satara district, and I am a farmer's son. I came to Thane for education, but due to our financial condition back home, I had to stop studying and start earning from an early age. But recently, after becoming a minister, many years later, at the age of 56, I completed my graduation. Going back to my early days, after I left my studies, I joined a company as a supervisor and did various jobs to meet the needs of my home.
It was at this point in time that I came in contact with Shiv Sena Pramukh Balasaheb Thackeray and Dharmaveer Anand Dighe. He was very dynamic, worked very hard and nonstop, and this inspired me to work hard too. At the age of 17-18, I officially started my political career in the Shiv Sena. I actively took part in many agitations and faced lathi charges during the Maharashtra-Karnataka boundary issue.
In 1997, I became a Shakha Pramukh and Anand Dighe saheb, my mentor, gave me the TMC election ticket. I won that election. After that, I became the House leader. In 2004, for the first time, I contested the Vidhan Sabha elections and won that. And then won it consistently four times in a row. I was the Cabinet Minister of PWD (PU) in the Maharashtra State Government from 2015 to 2019. Then in 2019, I became the Urban Development Minister. I was also the Health Minister for some time.
Politics is a 24×7 job with a hectic schedule and high stress levels. How do you maintain your work-life balance? Do you have any hobbies/interests beyond politics?
It is difficult for me to pursue any hobbies due to my busy schedule, but I love spending time in my field. Even now, I do farming whenever I go to my native place. I meet people over there and speak to them. Many people from the villages come to meet me and share a lot of things with me, which I listen very carefully to. I love doing things for them. I also like to watch plays and movies. Whenever I'm free, I play cricket and football even today.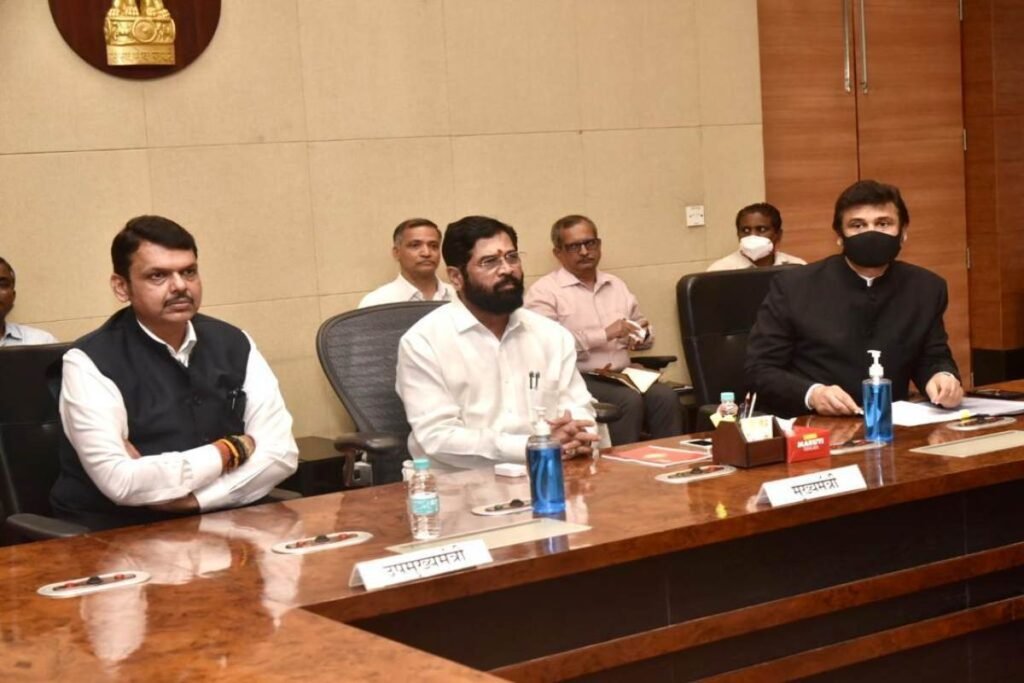 Surely you are a proud father with your son Shrikant Shinde being an orthopaedic surgeon and MP. What are the values/teachings that you impart to him, and what advice would you like to give the youth of our country?
When my son Shrikant was growing up, I never got the chance to spend time with him. I was very busy with my work, but his mummy looked into his studies and daily needs. A good boy, he studied well and became a doctor. Very clever, sensitive, sincere, dedicated and hardworking, he has successfully solved many social problems. He became a politician by accident; but the people of Kalyan-Dombivali needed him. They needed someone young, educated and hardworking to represent them. Though he is an MP today, he still works in the medical field through his 'Dr Shrikant Shinde Medical Foundation'. Lakhs of patients have benefitted and are benefitting through this foundation. He has even donated hundreds of ambulances across Maharashtra, so yes, rightly said, I am a proud father.
Throughout his growing years, I always advised him to study well, and get a professional degree. Education is very important. Our country needs educated people. That's what I tell the youth of our country – study well. Get educated, then create employment opportunities for yourselves and others. Don't be job seekers, be job providers.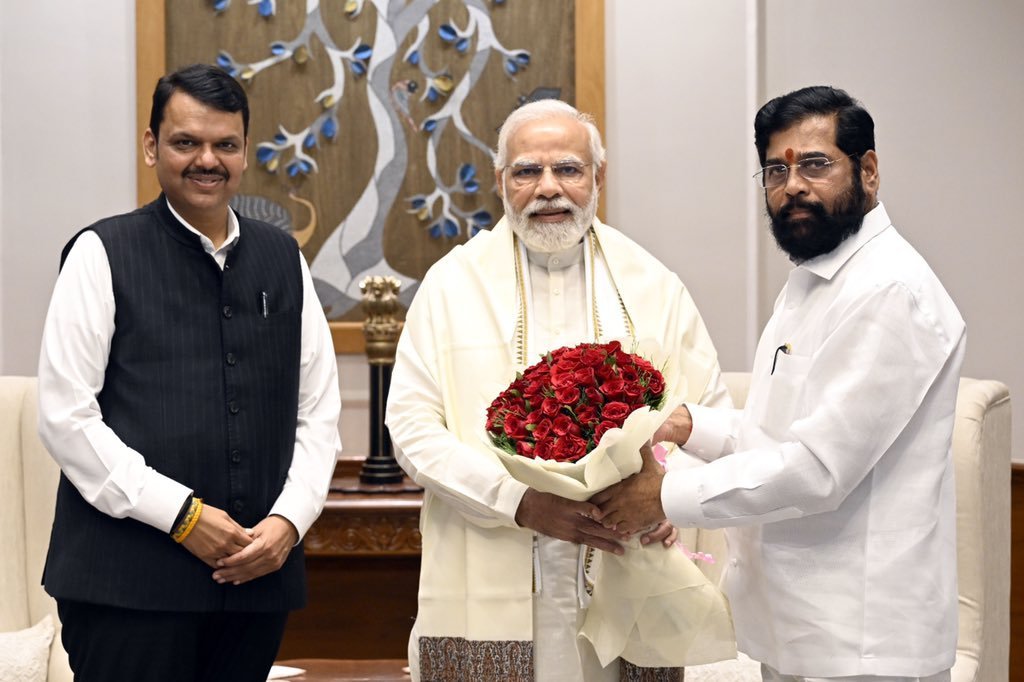 How does having a 'Double Engine' Government benefit the people of Maharashtra?
Progress will be faster due to the Double Engine. Prime Minister Mr Narendra Modi_ji_ has given all his support and blessings to this Government. To make the life of the people of Maharashtra better, the Prime Minister has told the Govt. to become more sensitive. I have instructed officials to meet people, understand their problems and try to solve them. A 'communication bridge' is a must between Government officials and the public – and that should not break. It is not necessary that all the problems should get solved immediately, but the problems need to be addressed immediately and steps need to be taken in that direction. I like to get work done quickly for the people. It is essential that the Government should be sensitive to the problems of the people.
What is your advice to the citizens of Maharashtra?
The government is with you, it is working towards your welfare and prosperity. We are a Government of the people, by the people, for the people. We want to improve the state of our state, and make it the No. 1 State in the country in all aspects. Through our endeavours, we want to contribute to the growth of India. We want to give you a helping hand and in return, we request you to help us in this journey. Let us all, the Government and the citizens, work as one team.