For the guidance, the support, the never ending supply of dad jokes but most of all for just being there, there's a lot to be grateful for when it comes to our dads. And Victorinox is all for showing them just how much they mean.
Make this Father's Day a special one with an extra special gift. From the versatile Swiss Army Knife to stylish watches, Victorinox has got it covered.
Journey 1884 Automatic Watch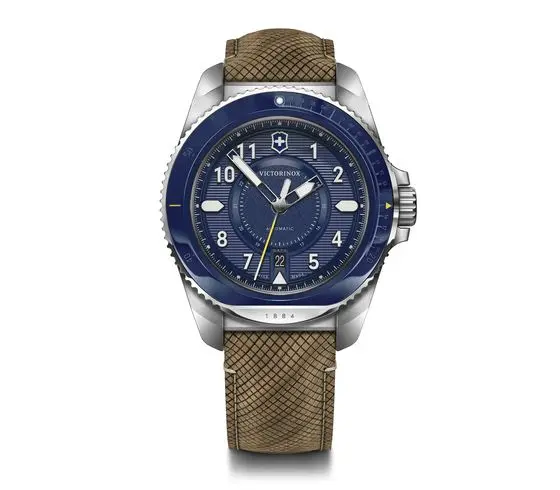 Surprise Dad with the Victorinox ISO-Certified Shock Resistant Automatic Watch. With a Swiss-made automatic movement, a rotating bezel with a ceramic inlay, and an innovative wood strap, it's a stylish and savvy gift.
Huntsman Knife
For an outdoor enthusiast or a handyman who loves challenging projects around the house, look no further than the Victorinox Huntsman Knife. With 15 functions, it's perfect for sawing wood or cutting ropes when climbing, hiking, and camping.
Airox Collection
An innovative range of luggage designed for the modern day. Crafted in 100% pure virgin polycarbonate, it's proven its break-resistant strength during rigorous testing. The smart Butterfly Opening System makes for effortless packing, and the large 60 mm dual-caster wheels deliver 360° manoeuvrability and zero weight in hand.
Swiss Modern Cutlery Collection
Chef dad is in for a treat with the Swiss Modern Cutlery Collection. This collection showcases Victorinox's commitment to precision and quality, offering a range of high-performance knives that elevate culinary experiences. Every blade is formed of wear-resistant stainless steel to enable effortless cutting.
Swiss Army Classic Perfume
Swiss Army Classic Perfume – an olfactory composition of refinement and inherent Swissness.. Smooth yet highly masculine, Swiss Army Classic is crafted for timeless confidence, exuding style, strength, and natural poise.
What are you waiting for? Grab your Father's Day gift and show your dad some love.