Sandeep Shikre and Associates is a well-known name in the world of architecture and design. Read about their design journey…
Sandeep Shikre and Associates, also known as SSA Architects, was founded in 1989 by Ar Sandeep Shikre and Ar Alpa Shikre. Under Sandeep's direction, SSA, with its varied portfolio and many national and international honours, is one of the top full-service architectural firms in the country.
Excerpts from the interview…
What ideas go through your mind when you start a new project?
Every project is unique, and every project has a different matrix and set of requirements. Ideas and methods are constantly original and novel. Understanding the client's brief, the intended audience for the project, and a number of other elements that have an impact on the design process are the main areas on which we focus. Our journey for evaluation for that specific project is identified and guided by a collaborative effort. Every assignment is a fresh chance for us to show off our skills. 
Do you find it challenging to constantly create original designs for such a wide range of needs?
No. The idea of "one size fits all" is seldom successful in architecture. Each project is unique because of its setting, scope, and functional requirements. The strategy must be project-specific and human-centered. Understanding the contextual and functional needs of the inhabitants is crucial for inventive designs to satisfy a variety of needs. To guarantee design clarity, a collaborative method is required. Clarity in the methodology, collaboration, and context ensure that the design innovation is not carried out superficially or in isolation.
What is your take on sustainable architecture?
We are committed to sustainability and see it as an essential component of good design. When you arrive at a contextual and microclimate sensitive solution while putting people's needs and health first, the built environment is sustainable. We are a nation that pioneered and adhered to sustainability principles in terms of design, materiality, and context. Our gurus have previously established some design ideas and rules that have been adopted and recognised globally, such as roof gardens, cavity walls, courtyard layout, glare control jaalis, and evaporative cooling techniques.
Your message to the budding and aspiring architects from India.
Be sincere and truthful. Your commitment and sincerity will undoubtedly be seen and appreciated.
Nothing is off limits. Believing in oneself, your group, and the fact that research is a collective endeavour. You have been given a position that you must value, respect, and return. In this line of work, you go to the best and receive the best.
We choose a few designs from their extensive portfolio of work in different segments to highlight their creative journey.
American School of Bombay
In order to facilitate learning for the pre-primary pupils in this project, we have designed an engaging and stimulating environment. In order to allow the child to flourish, the design team built an environment that is open and friendly without obstacles.
This area was designed as an atypical "open classrooms" setting, with low-height storage cabinets and walls positioned strategically to create a slight yet evident separation between the classrooms. The difference in material texture between ceilings and floors allows for the sublime divide. The flooring and ceiling are deliberately changed, and they have excellent acoustical qualities that make "classrooms without walls" successful in a unique way.
Because of the open floor plan and the idea of "classrooms without walls," it was necessary to employ materials with sound-absorbing qualities. As a result, the decision to use carpets was made, which serves well from an aesthetic and functional standpoint.

This building has the distinction of being LEED Gold.
Kohinoor Square – Lobby
Kohinoor Square, where a recognisable high rise tower offers a 360 degree panoramic vista, makes a "Design Statement" introducing a new approach to high density expansion. It is a 2.6 million square foot mixed-use complex including residential, commercial, retail, and hospitality space.
Even in the lobby's design, the diamond's main concept is softly and seamlessly visible. The 17-meter high foyer is a gorgeous blend of polished natural stone flooring and lofty glass ceilings. The lobby's decor was influenced by the distinctive textile weave of Indian cloth, which honours the mill workers while also giving it a distinctive ethnic look. Custom-designed splayed ceiling and flooring highlight the diamond's facet edges.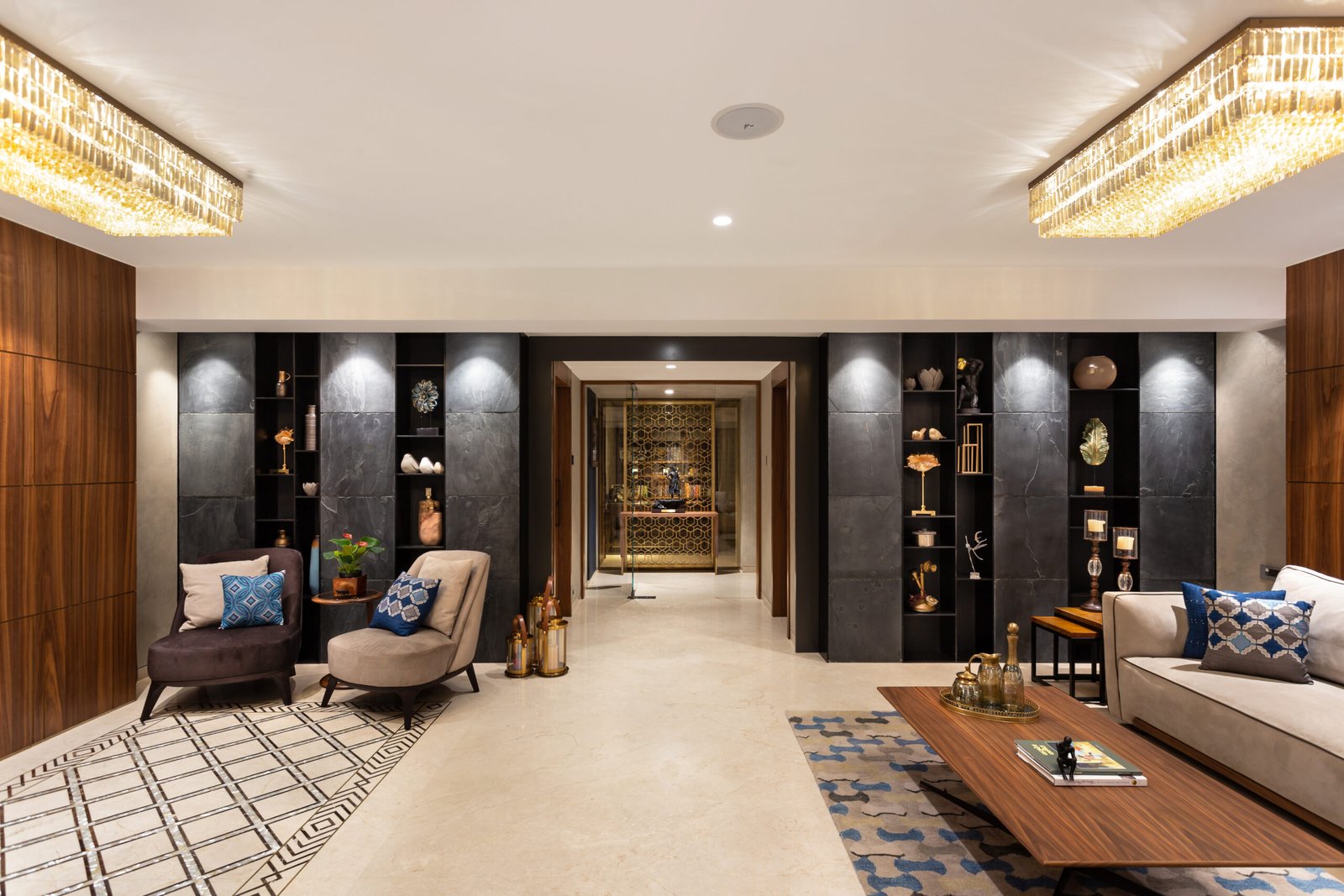 The article has been excerpted from our sister publication 'Society Interiors & Design'.