30 years of J J Valaya, and the brand's allure of the 'royal nomad with a penchant for Art Deco' grows more enticing. The man himself believes it's all about making this moment absolutely worthwhile…
By Nichola Marie
Renowned designer, couturier, founding member of the Fashion Design Council of India (FDCI), and the first global brand ambassador of crystal giant Swarovski, you are regarded as the Monarch of Indian Fashion.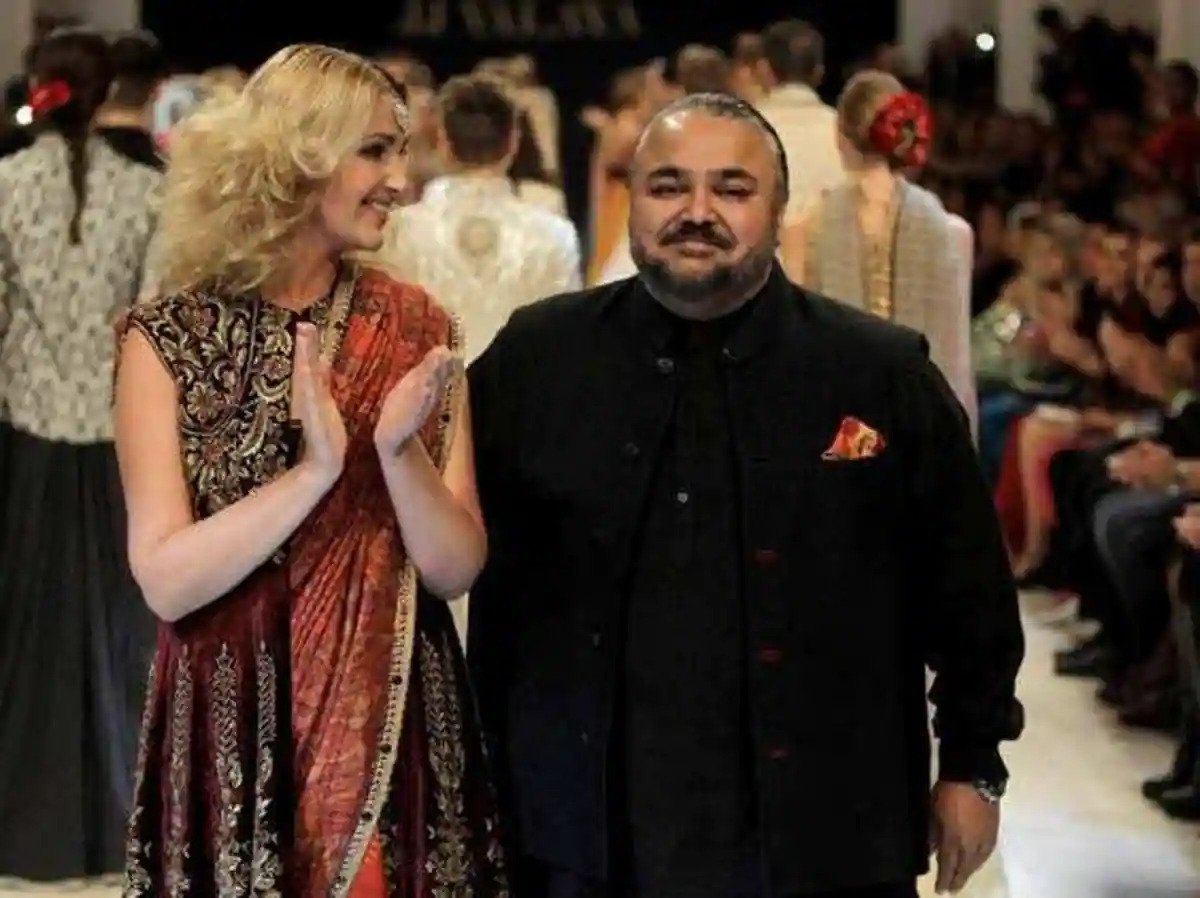 With more than 30 years in the realm of fashion and design, what are some of the accomplishments that fill you with a sense of pride and gratitude?
Well, thank you. Actually, you've listed out a lot of the things that make me feel very good about this wonderful profession that I'm in. And the fact remains that this profession is also my personal life, so really it doesn't feel like work! Too many moments of gratitude; to list them out would be almost impossible. But let's just say, I'm blessed with the luxury of being able to do exactly what I absolutely love doing. So, be it fashion, interiors, or photography, all my passions are now my work. And I don't think I could have asked for anything more.
Going back to the beginning, you belong to an army family and grew up in various cities in India along with your older brothers… was fashion a part of your early experiences?
Growing up in the army is such a wonderful experience that a civilian, who hasn't been surrounded by this environment, will find it very difficult to digest. Every two or three years, you're constantly changing homes, changing cities, changing friends, changing schools. And this is something that makes you so versatile and gives you the ability to adapt to different things much quicker than probably anybody else would. Also, for me, fortunately, by the time I got my bearings, my father was a senior army officer. So, I was very fortunate to be living in large army bungalows surrounded by acres and acres of land, and lots of people to help me. That whole aura of growing up in these larger-than-life homes, having wonderful service all around me, probably egged me on to a world of luxury and into wanting to create something which is luxurious, larger-than-life and impression-making.
Fashion being a part of my early experiences was always through my mother. You know, the army has welfare societies, so the commandant's wife or the senior officers' wives, always go to the welfares and work with all the jawans' wives in units developing handicrafts and stuff like that. My mother was exceptionally fond of embroideries – be it cross stitch, shadow work or smocking. And then she designed a children's wear line. My penchant for embroidery probably emanated from there. And clearly, I imbibed from the DNA, the bloodline of creativity. My maasi — my aunt Parmeshwar Godrej — was also an accomplished creative individual. She was known for her sense of fashion. She did wonderful interiors. So I think somewhere it's just there in the blood!
In the world of fashion, JJ Valaya exquisite bridal trousseau, splendid handmade embroideries, meriting craftsmanship, and unique contemporary attires soon caused a stir. What have been your enduring design philosophies?
Well, I think the keyword in my answer actually rests in your question, which is enduring design philosophy. And this, to me, is the fundamental of couture or luxury: when we create something which is so special, so timeless, so beautiful, that it must endure. That is something I feel my forte lies in. I don't want to be a slave to transient fads or trends. Short trends are very exciting because they keep the fun in fashion alive. I've had brides and grooms from 25-27 years ago now coming to us with their daughters, who have discovered their parents' clothes and want them altered to their size. That, in itself, is very special. When we open those garments — which are close to three decades old — the look and feel are just as new as they were then. And the fact that another generation is totally resonating with them, I think that's my biggest high. So, yes, timelessness, and if I can create something which endures would probably be my core design principle. Luxury, being the underlying signature, I am definitely a player who wants to only dream, conceive and create something which is so incredibly beautiful that it stands the test of time, and it breathes luxury.
What are the factors that go into creating designs that surpass the test of time?
There are several elements that go into trying to create something which is timeless; we don't succeed every time but more often than not we do. The number one principle for that is quality. And this is something that gets overlooked a lot, especially nowadays because I've noticed that most people think that if you fill up something with loads of embroidery, and lots of glitter, that does the job. But the fact remains that if you pour hours and hours into techniques, materials, and the fineness of craft that can stand the test of time, which can last for years and years and be passed on to generations, that is when you know you've created something which is never going to go away. We apply the same principle to everything we do, whether it's clothes, my interiors line, our tapestries – which are well-known now as wall art – or my photography. Timelessness remains the core principle, and for which I think quality is the number one ingredient.
How do you stay true to your belief of experimenting with the medium without compromising on the purity of the technique?
I'm a person of the present and whatever triggers my inspiration at that point in time, I embrace wholly, do a lot of R&D and then start narrowing down what I want to imbibe from all that and create in a completely new way. So, experimentation is mandatory, compromising is not acceptable, and the purity of the technique must be followed, but yet you need to have some fun to remain relevant.
Do you believe royalty and elegance in clothing designs continue to be a factor that governs Indians' fashion choices?
Well, you know royalty is where we come from. If you go back in time in India, we were several principalities and states run by several maharajas; a land of multiple palaces, forts… grandeur unparalleled. And yet somewhere from that era, perhaps courtesy the British, we came down to the 'slumdog millionaire' sort of imagery that was bestowed upon us. So I think one cannot run away from the core DNA. And Indians' fashion choices, as you've chosen to call it, especially for weddings, will always be reminiscent of that era. This is the one time that we Indians get to live the moment the way we used to, to feel like royalty, to dress like royalty and to kind of marry in absolute style. So, it's not a matter of governing India's fashion choices. It's almost like being true to your own DNA.
You are also involved with various products such as haute couture, footwear, and tapestry, and also have a passion for fine art photography. Are the aesthetics across these mediums similar?
Yes, absolutely. When it comes to my design work, whether it's fashion or accessories or furniture or tapestries, there is a distinct DNA that runs through it. We have fondly been known as the royal nomad with a penchant for Art Deco. And I think in everything I do, you will find that there is a fair balance of royalty with the nomadic spirit, but with the modernity and glamour of the Art Deco period.
So that goes across the board. When it comes to photography, obviously, it's a similar grain, but not identical, because photography to me also liberates me to some extent, because I don't look at it commercially. For me, photography is all about capturing that specific moment and hoping that I've frozen something which would gladden the heart many, many, many centuries later. In photography, I work with portraiture, architecture, still life and travel, besides, of course, fashion photography. So yes, the underlying spirit in everything is the same, but perhaps the expression sometimes does have a few differences.
Tell us a little about JJV.
JJV is a new bridge to luxury lines. The DNA, the soul, remains the same. But JJV is meant to be something that you can wear for any formal occasion – not just weddings. It's also based on travel a lot. And, therefore, my whole intent was to tell people that always take a piece of something special when they travel for those sudden soirees that pop up whenever they're out. We're also trying our best to imbibe as much sustainability as we can with this line by using eco-friendly fabrics. And, of course, this is my tribute to Punjab, to the land of my forefathers — Kapurthala — and to seek splendour. So it's a very interesting line; the visual will tell you much more than my words.
Your latest collection is doubly special…
Well, our latest collection is called Alma, which means soul in Spanish. So it's loosely based on Spanish influences. Having said that, this was also our 30th Anniversary collection! So there are bits and pieces of all my past collections infused along with Alma to create unique pieces, individual pieces which stand out, which are one-of-a-kind, and which, as I always say, will stand the test of time and be your personal favourites for years to come.
You've also marked a spot for Indian fashion on the international map.
Well, 30 years is a long time. And yet, surprisingly, for me, it looks as if I started my career yesterday. Too many accomplishments to talk about, international and national, but I am so deeply grateful for the opportunities that I've got, for the recognition that I've received from so many people internationally, which has given me the chance to travel and see the world. I mean, I've done nearly about 50 countries already. Each trip has been so special and has involved working with such amazing people. When you come to luxury and couture, it also means meeting some very rare people. So I've had meals with kings and queens, with presidents and first ladies who hosted special evenings or a high tea for me. I'm extremely, extremely humbled by this because all I did was follow my heart and create something which I thought looked wonderful. And the appreciation just came from all over. Nothing can be more gratifying. Our latest was me working with the very accomplished Ruth Carter, who won the Oscar for 'Black Panther'. We worked with her to create some very special looks for Queen Ramonda's character played by Angela Bassett in 'Black Panther: Wakanda Forever', which is currently running and is poised to be a blockbuster. I think that was amazing, creating something along with a wonderful Oscar winner for probably one of the biggest productions of Hollywood for this year. So yeah, life goes on, and surprises keep coming. I just keep embracing them, being grateful for them, and making sure that I give them my best.
Are there any goals that you still look forward to accomplishing?
Yes, there are always business goals. But, if you ask me personally, I have strongly believed — and this has only been possible by the grace of my spiritual master — that life exists in this moment. So I try to give this moment my everything. I'm not saying I succeed every time, but most of the time I do. And I think by giving my present everything, I create my future, so anything and everything that is meant to happen, will happen… As long as I know that I've been aware of this moment and I've done my best at making this moment absolutely worthwhile.