The fastest Indian bowler to take 100 ODI wickets, Mohammed Shami is a quiet fighter. It's this determination that sees him repeatedly return to shine despite the setbacks.
By Nichola Marie
"Injury, in general, teaches you to appreciate every moment. I've had my share of injuries throughout my career. It's humbling. It gives you perspective. No matter how many times I've been hurt, I've learned from that injury and come back even stronger." That was Mohammed Shami's reaction after a shoulder injury ruled him out of the ODI series against Bangladesh (started December 4, 2022). We have no doubts he will return stronger. The key right-arm fast bowler is hailed for his many variations of the same ball, his cricketing intelligence, and his consistent improvement. But he is more than the sum of his parts. How else does a sportsman return after long gaps of absence — having overcome injuries and erratic form — to take his rightful place under the sun? Read on as he opens up about his highs, lows, and future plans…
It has been seven years since you wowed the world as India's leading fast bowler in the 2015 World Cup in Australia. India had marched into the semi-finals. What are your memories of this landmark game?
Yes, that was a good memory. We worked as a unit in the 2015 World Cup. We got 77 out of 80 wickets. That built my confidence and our trust with each other. We did well and we really enjoyed each player's success.
You played through the entire tournament as well as a test series before that with a knee injury. Why and how did you pull this off over four months?
Yes, I played through the entire test series tournament in Australia. During the first test match in Adelaide, I got my knee swelling but the team management and I managed well.
So many years later, you were again in India's 2022 World Cup squad. How do you maintain your famous pace, accuracy and skill in moving the ball – both old and new? How challenging is it to be on top of your game and deliver?
It was very difficult to maintain pace, accuracy and skill in moving the ball both ways. Yes, it was challenging to deliver in the game, to maintain fitness and practice regularly. And you have to keep repeating your skill and ability.
What was the experience like playing in the 2022 World Cup? What were your personal high points? Any regrets?
My personal high point was my being selected for the 2022 T20 World Cup and my regret was that we didn't win the World Cup. But it was a nice experience.
You hail from Uttar Pradesh but played first-class cricket for Bengal, where you were noticed. How did that come about?
Yes, I was born and brought up in Amroha, UP. I did some trials for UP domestic cricket but they did not select me. At that time, I was really upset. My family and I decided to move to Kolkata and play club league matches. I performed well and they selected me for the domestic camp. After that, I got selected for the Bengal team for the Ranji trophy
You had only 15 first class and 15 List A games when you were selected for India's ODI team to play Pakistan in January 2013. Did you have any fears about living up to expectations at that time?
I had played 15 first class and 15 List A games and, at that time, I didn't have any idea in my mind that I would be selected for the Indian team! But my focus was only to play games and perform well.
You became the eighth bowler, and the first Indian, to bowl four or more maiden overs in your ODI debut. How thrilling was that?
Before I started that match, I didn't have any idea about my performance, but I was very happy about my performance!
You have had several highs in your career. Which are the wins/ matches that you are particularly proud of?
I have a very good memory of my first ODI debut match against Pakistan in Delhi. From there, I started my career very strongly and confidently.
My second best memory as a batsman is of my innings at Lord's where I made 56 runs and we won that match.
You have also faced disappointments such as a knee injury ruling you out of a limited-overs tour of Australia and the Asia Cup in 2016. Again, you were selected in a 15-man squad for the World T20 in March, but were unable to break into the XI having spent a year out of international cricket… How do you recall handling these setbacks?
Yes, I was disappointed because of my knee injury during the 2015 World Cup and, after that, the Asia Cup because of my knee operation and rehabilitation. But I made myself mentally strong and focused more on my knee rehab at NCA. At that time, for one-and-a-half years, it was very difficult for me to overcome the situation. However, I mentally fought and overcame that situation. My family, physiotherapist and trainer supported me a lot. The BCCI was also a great help in helping me overcome that situation.
Has the whole cricketing scenario changed a lot since your early days?
Obviously. When I started in 2005 – 2006, there were fewer matches at the time. When I joined the Indian team in 2012 – 13, I feel I played many matches. And now, compared to that stage, there are even more matches played! As there are too many matches now, I have to take care of myself and my workload. That's the change.
What's a day like in the life of Mohammed Shami?
Nothing special… Start the day in a fresh mood and with a smile. Then, I look after my fitness, control my diet and stay happy
How important is maintaining one's inner equilibrium whether on or off the field? How do you keep your mental peace and emotional balance?
As a professional, it is very important to keep calm on or off the field. And you have to maintain your fitness. And off the field, there should be a positive mindset.
What are some of the goals you hope to achieve, both short-term and long-term?
My short-term goal is to win the World Cup next year, and my long-term goal is to be a successful businessman.
Who are some of your sporting heroes and what do you admire about them?
Cristiano Ronaldo… I admire his dedication to the game and the way he plays.
Are there any other sports you follow or play as a hobby?
That would be football.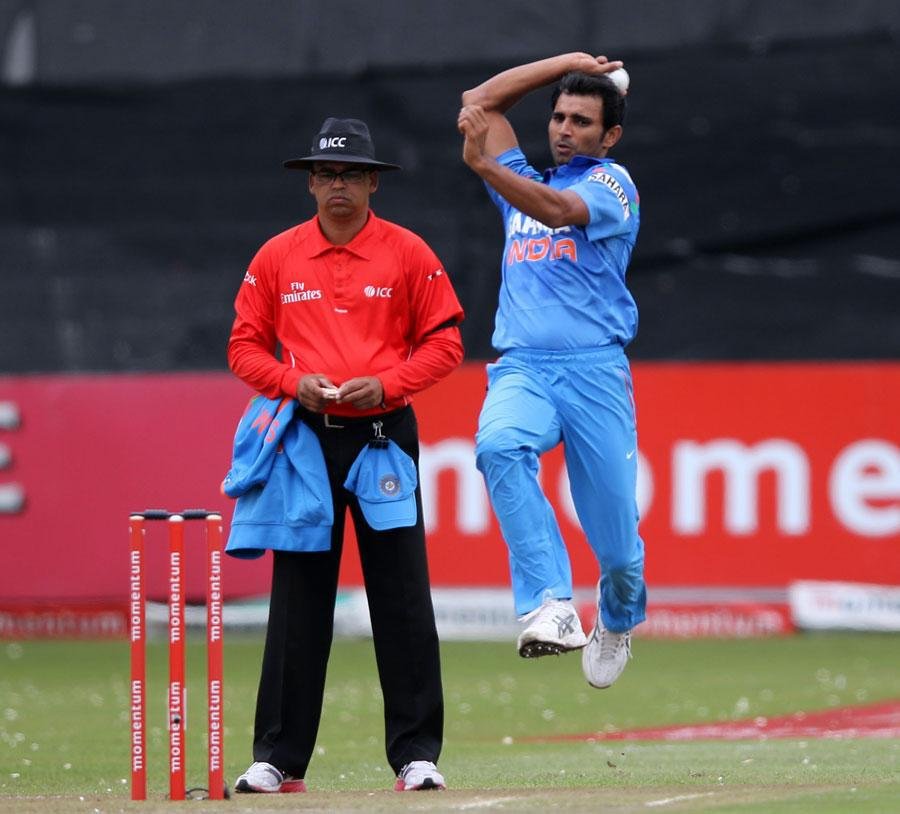 Swift Shots
Best film: '3 Idiots'
Favourite actor: Salman Khan
Favourite actress: Alia Bhatt
Favourite food (dish): Non-veg
Best singer: Arijit Singh
Favourite sportsperson: Virat Kohli
Fast Facts
• He was born on September 3, 1990 and originally hails from Sahaspur village in Amroha, Uttar Pradesh.
• His father Tousif Ali used to be a fast bowler. Shami's three brothers also wanted to become fast bowlers.
• He learnt the skill of reverse swing at a young age, practising with old red balls which he would take from organisers and shine on one side.
• He holds the record for the third-fastest delivery bowled by an Indian bowler. He delivered a 153.3 kph during the Test against Australia in Melbourne in 2014.