Like Claire from 'Fleabag' said: "HAIR IS EVERYTHING!" Tsunami Costabir speaks to Sonali Bhimani, Creative Director, JCB Salons India, to find the perfect cut, colour and care for your hair.
The winter chill brings with it the perfect time to try out a new look, but the change in temperature can also take a toll on your locks, which is why it can do with a little extra TLC.
The right cut
Rectangular Face: Choose a style that softens the appearance of your sharp jaw and forehead without further elongating the face. A soft layered cut or curtain bangs work best, as they enhance the cheekbones while disguising the corners of the face.
Square Face: Leaning toward a cut that softens the sharper features is essential for a flattering appearance. Long, airy layers and side-swept bangs complement these features best.
Diamond Face: Mid or long-layered cuts worn with tousled waves, deep side parts, and chin-length bobs best accentuate this face. Slick-back ponytails are also a great look for these features.
Oval Face: Compatible with various hairstyles – from a blunt bob to long with minimal layers.
Heart-Shaped Face: A side-parted pixie cut with textured ends can look gorgeous on a heart face shape. A bob or lob haircut will ensure fullness around the jaw to balance the features.
Round Face: The most flattering hairstyles for round faces are those that add definition and shape. Choose long, staggered layers that start around the jawline or add a short side fringe that finishes at the eye to help lengthen your face. Steer clear of bobs and single-length cuts along with short layers, which can balloon around your face, and full curls, which can also enhance the appearance of roundness.
Triangle Face: The best length would be till around the collarbone, with light wispy bangs. Full bangs and long-side bangs should be avoided.

Go for colour
Switching up your hair colour is one of the easiest ways to hit the reset button on your look for the season. Here are a few things to keep in mind when adding a little colour to your locks.
Brunette: Adding detail and interest to natural brown hair with multiple deeper shades offers a more dimensional look. Your colourist must find a balance between the lightest shades of your hair colour, haircut and skin tone to create a natural yet enhanced look.
Deep Auburn: Deep, rich shades of red, particularly for the colder months, are the trendy way to add fun to your look while enhancing the warmer undertones in Indian women.
Face Framing Highlights: For a softer take on last year's chunky highlights, opt for a subtler face frame to bring all the attention to the eyes without any harsh lines.
Balayage: It's the low-maintenance option that balances out any previous colour with the grow-out. Your stylist will find the perfect colour to blend seamlessly with the highlights and your natural colour, creating a lower contrast with pops of highlights.
Fantasy Blue: For those who like to experiment with bold colours, blue is a nice change from the usual reds and browns. From an almost blue-black that requires minimal lifting to a bright icy blue that would require a little more care, the blue hues offer the best of fantasy colours!
Care for your hair
Your hair deserves a little TLC. So, it's time to invest in suitable hair care products to battle the toll the weather can take on your tresses. Combat issues like dandruff, itchy and flaky scalp, frizzy and dry hair etc with these winter care essentials.
Use a scalp treatment: During winter, the scalp tends to dry out due to the lack of moisture in the air, leading to dandruff and flakiness. Use a non-greasy, non-sticky treatment oil, like Moroccan Oil, which is easily absorbed into the scalp, to restore moisture and nourish the hair follicles.
Deep conditioning hair mask: Use a deep conditioning mask at least once a week for deep hydration and nourishment.
Leave-in conditioner: Apply a leave-in conditioner to prevent static and keep the hair smooth when you step outside.
Use the right hairbrush: Lack of moisture, combined with the friction caused by hair brushes, can make your hair frizzy and increase static. To counter this, use a vented hairbrush with a combination of boar and plastic bristles.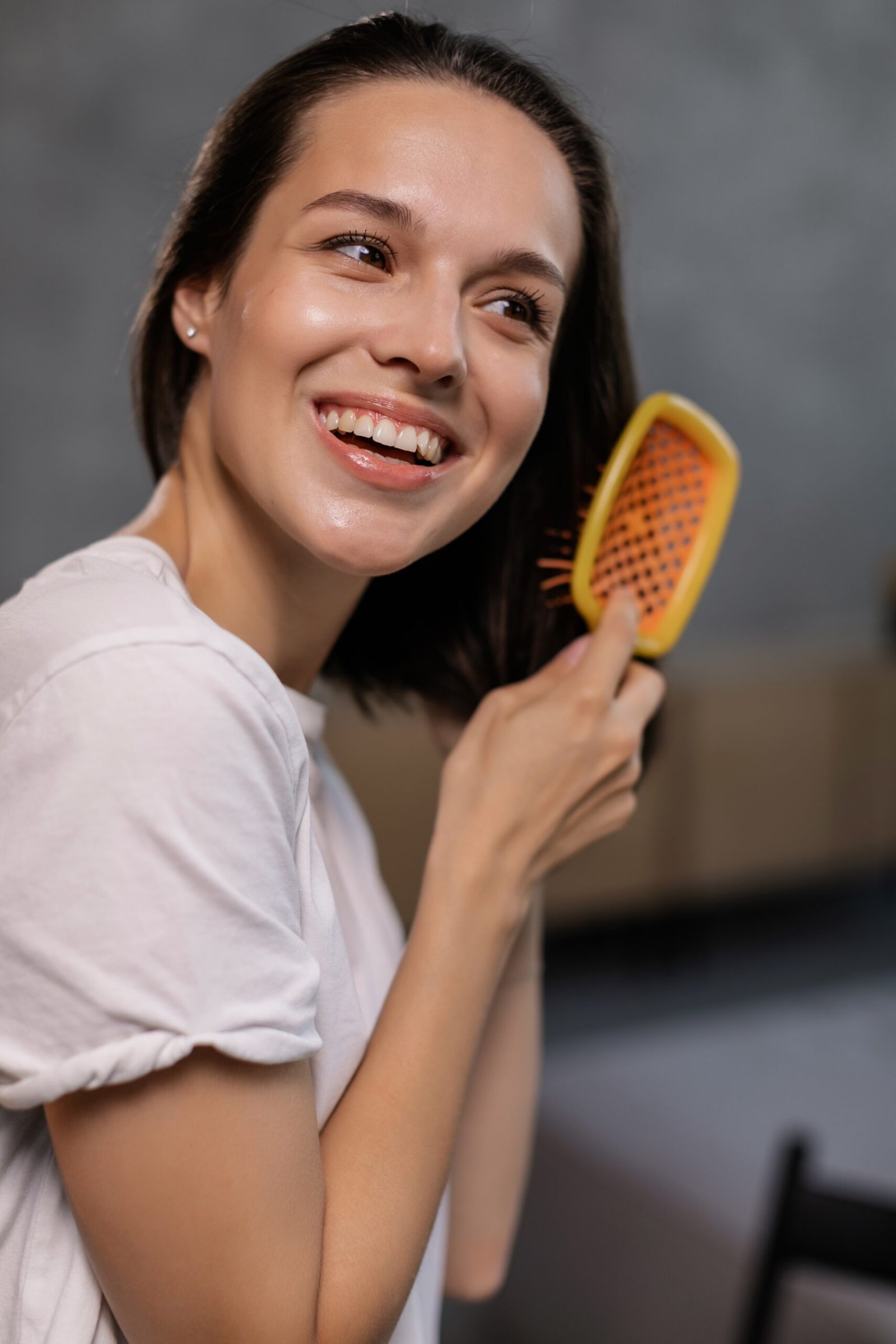 The difference between a good day and a bad day could sometimes just be the state of your hair! So don't hold back from showing your hair some extra love this winter.