Prithvi Shaw, back in the reckoning with his admirable knocks in the Ranji Trophy, opens up about the upbeat tone it has set for the rest of the season, his highs and lows, and his hopes for the immediate future.
By Nichola Marie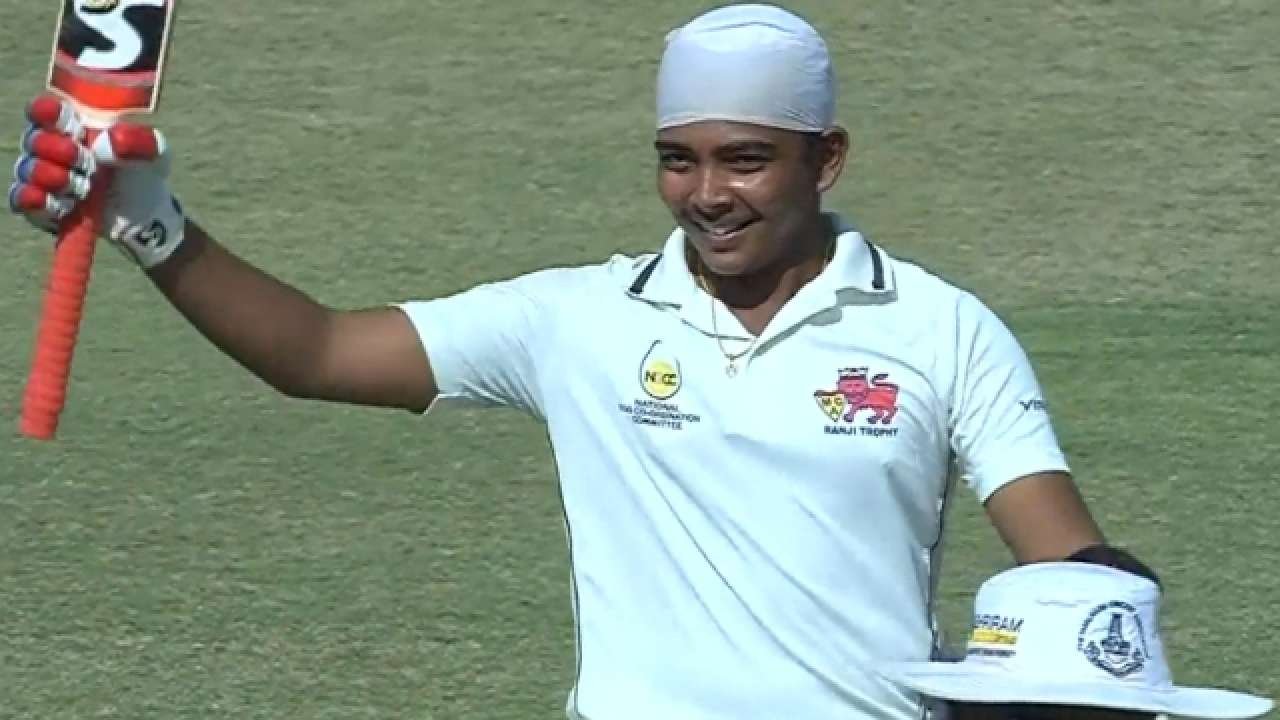 An epic innings of 379 runs off 383 balls for Mumbai against Assam, setting the second-highest score by a batsman in Ranji Trophy history. This, coming on the heels of a century off 107 deliveries in the same tournament… The year has indeed begun on a smashing note for Prithvi Shaw. A well-deserved validation for the 23-year-old batsman who had grabbed attention at 14, with his record-breaking innings of 546 runs off 330 balls, in school cricket. He followed it up by becoming the youngest centurion, debuting in the Duleep Trophy in 2017 — and breaking the record set by Sachin Tendulkar, no less. A century scored in his test debut in 2018, and understandably expectations soared. The story thereafter proved to be underwhelming, and he faced the brunt of extreme criticism. Taking a break from the game to rest and recalibrate. But he is back in form, as his latest performances show. When he tells 'Society Achievers' that he is now looking forward to finding his way back into the Indian team and staying there for a long time, you can't help but hope that the Gods are listening…
Excerpts from the interview…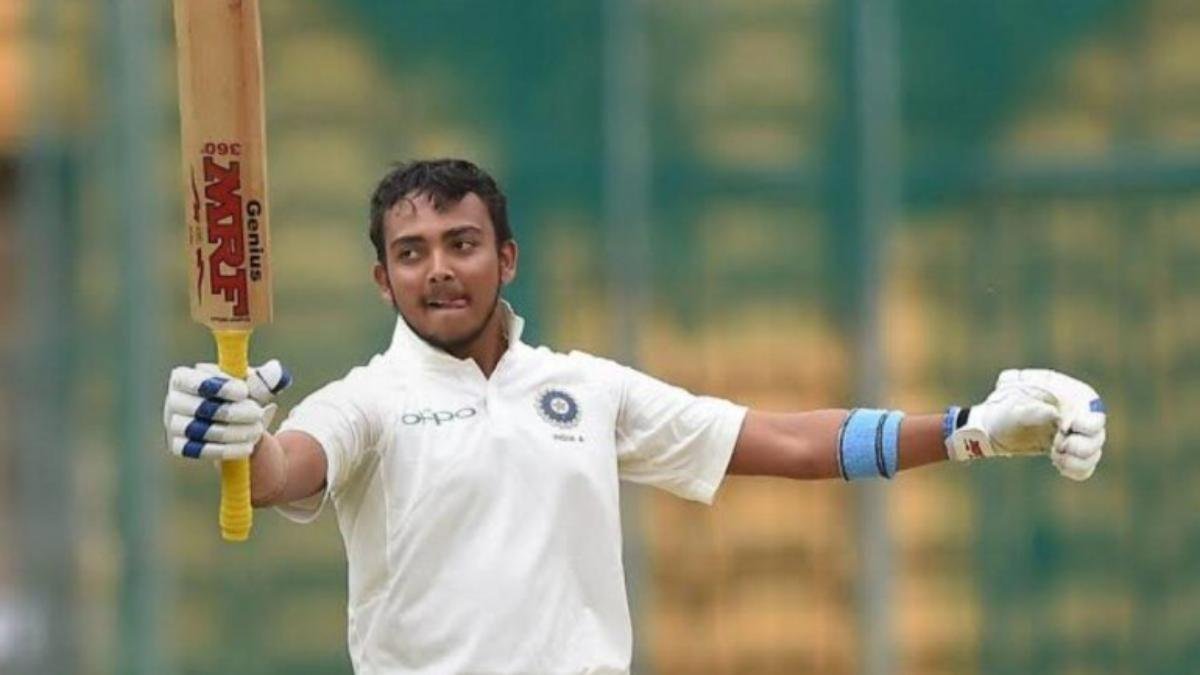 You have got off to a great start in the New Year, scoring a brilliant 100 off just 107 deliveries against Assam in the Ranji Trophy…
It was a proud moment for me, as a player, and it boosted my confidence. It was a great way to start the New Year, and it set an upbeat tone for the rest of the season.
Just 14 when you made history, scoring a never-seen-before 546 in Mumbai's Harris Shield… Looking back on that day, what powered that tremendous knock?
Several factors contributed to the performance on that day, including talent, years of practice, and a strong desire to succeed. Additionally, technical skills, such as my ability to read the game, shot selection and concentration levels, also played a significant role. As they say, it took 14 years to be an overnight success!
You went on to score centuries on your debut in the Ranji Trophy (2016-17) as well as the Duleep Trophy (2017), earning comparisons with the great Sachin Tendulkar, who had accomplished these feats earlier. How did you deal with so much fame that came so soon? Did you feel too burdened by expectations?
Comparisons with a cricketing legend like Sachin Tendulkar was an honour, but also came with a lot of expectations and pressure! The support from family, coaches, and teammates helped me handle the pressure. Additionally, having a strong mental game, focusing on the process rather than the outcome, setting realistic goals, and learning from mistakes helped me deal with the fame and expectations.
Captaining the Indian U-19 side for the 2018 Junior World Cup in New Zealand, you not only scored 261 runs at an average of 65 with two 50s to your name, but also brought home the title. What are your special memories of this win?
Winning the Under-19 World Cup as captain of the Indian team has been a significant achievement for me, and I have many fond memories of that tournament. Some of the highlights include leading the young team to victory, scoring a significant number of runs, and the excitement and camaraderie of playing with my teammates during the tournament. The feeling of victory is still an unforgettable moment.
Invited to play in the school circuit in England, you scored 1446 runs over a two-month period. What did that experience teach you?
Having scored 1446 runs and bagging 68 wickets with my off-break style of bowling in two months for Cheadle Hulme School was a great experience. I learnt to perform better in foreign conditions later in 2013 and 2014 when I was given a chance. I played for other teams like Cleethorps in the 2014 Yorkshire ECB County Premier League in England. It was a completely different experience for a boy from Virar to be in England going toe-to-toe with so many talented players.
How would you say your performances for India A, both in England and at home against West Indies A and South Africa A, gave wings to your India aspirations?
Performing well for India A can be an important step towards earning a call-up to the senior national team. Playing against strong opposition in both domestic and international matches can help players gain experience, build confidence, and demonstrate their ability to perform at a high level. In the case of playing well for India A in England and at home against West Indies A and South Africa A, I showcased my ability to adapt to different conditions and styles of play. A strong performance on foreign soil can demonstrate that a player has the mental and technical skills to succeed in challenging environments, which is a valuable asset for any international cricketer.
You pipped Mayank Agarwal in the race to be India's backup opener when you were called for the fourth and fifth Tests in England in 2018. Did you expect this to happen?
I did not expect to be called up for the fourth and fifth Tests in England and was surprised. As a cricketer in India, you are always expected to step up for the country whenever asked. I trusted my skills and performance at that time to be prepared for the opportunity, and was able to take advantage of it when it came.
The International Cricket Council (ICC) named you as one of the five breakout stars in men's cricket in 2018. How much of a thrill was that?
Any recognition by the International Cricket Council (ICC) is a significant achievement for any player. It is recognition of my talent and performance, and is a major milestone in my career. The honour also brought attention and opened up opportunities for future success.
You became India's 293rd Test cricketer in Rajkot against West Indies in November 2018. What were your feelings at the time?
It is a big achievement for a cricketer to be selected to represent their country in Test cricket. Being named India's 293rd Test cricketer is a huge milestone in my career and a testament to the hard work I put in. It is a huge honour and it was a proud moment to represent the country at the highest level of the sport.
You made your IPL debut in 2018. Do tell us about your fulfilling IPL moments over the years.
IPL has been an exhilarating ride so far. From being picked by the Delhi Daredevils as a young boy, to my current stint with the Delhi Capitals, it's been a whirlwind experience. Six boundaries in an over, remains a personal favourite, and also the thrill to be involved in the winning moments of the team.
You lost your mother at a young age, and it was your father who supported your cricket dreams. How did this experience impact you?
Losing a parent at a young age can be a difficult and traumatic experience for anyone. Losing a mother at a young age, in particular, can be especially hard as mothers often play an important role in their children's lives. The experience of losing my mother had a profound impact on my life. Having a supportive father who supported my cricket dreams, had a positive impact on my life as I had someone to look up to and rely on during a difficult time. His support helped me as a person to cope with the loss of my mother, as he also served as a role model and provided guidance and support in my pursuit of the cricket dream.
What are some of the changes that you have made in yourself, both cricket-wise and personally, since you first started out?
For any cricketer, as they gain experience and play more matches, it is natural for them to make changes to their game and personal life. Cricket-wise, as a player, I made changes to my technique, fitness, and mental approach to the game; for example, improving my technique against a specific type of bowler or working on my fitness to improve endurance. I also made changes to the tactical approach to the game, such as becoming more aggressive or defensive depending on the match situation. Personally, as a player, I changed my lifestyle, such as changes in diet, exercise, and rest, to help me perform better on the field. Also changes to my attitude and mindset, such as learning to deal with pressure and handling the expectations of fans and media. I also tried to develop new skills and hobbies, to help keep me motivated and engaged, and avoid burnout.
You have also seen the lows in your cricketing career. How did you deal with this challenge?
In cricket, it is not uncommon for players to go through periods where they are not performing as well as they would like, or where they are facing injuries or other obstacles. To deal with these challenges, I turned to a variety of strategies such as seeking advice from coaches and mentors, reviewing footage of my own performances, and working with specialists such as sports psychologists or fitness trainers to identify and address any issues. I also took a break from the game to rest and recharge, or focus on fitness and conditioning. Travel was a big motivator and a stress buster.
As a player, you learn from your mistakes and use them as a learning experience for future matches, which will help you be more confident and determined to be back on the field. I always try to maintain a positive attitude and mindset, and not get disheartened by setbacks. It's always important to remember where and why you started.
What are some of the goals that you wish to achieve soon, and also some of your long-term dreams?
Short-term goals include things like improving my technique against a specific type of bowler and working on my fitness to improve endurance. Long-term goals include things like earning a regular place in the national team, winning a major ICC tournament, and becoming one of the top players. I'm looking forward to finding my way back into the Indian team and staying there for a long time. As the IPL is upon us, I want us to go the distance. We have been knocking on the doors for a long time and it will be nice to win it for the fans in Delhi.