Visionary entrepreneur or 'wolf in cashmere', Bernard Arnault, Chairman & CEO of LVMH — the world's leading luxury products group — is also a master of staying surprisingly low-key.
By Nichola Marie
News comes in that the world's top luxury group, LVMH (Moet Hennessy Louis Vuitton) hit new highs in sales and profits in 2022. The boom is courtesy of the resumption of international travel and strong local demand in Europe, the US and Japan. Sales of the luxury conglomerate, which owns more than 75 brands, including Louis Vuitton, Bulgari, Givenchy, Tag Heuer, Kenzo, Tiffany, Christian Dior and Moët et Chandon, rose 23% to US$86 billion with net profit jumping 17% to US$15 billion. With a market capitalisation that soared to US$430 billion recently, it is good tidings, mais oui, for the maker of champagne, handbags, jewellery and other luxury goods that is Europe's most valuable company.
As Sophie Lund-Yates, lead equity analyst at Hargreaves Lansdown, summarised: "LVMH is the jewel in luxury's crown. Bernard Arnault's empire has seen its valuation swell over 200% in the last five years, and momentum doesn't appear to be running out."
It has indeed been an endless summer for LVMH, engineered by the real jewel in its crown – Bernard Arnault, who has single-handedly carved this gigantic empire. Over the decades, he has attracted an avid fan base, as well as, sharp critics. While his admirers see him as a visionary entrepreneur invigorating French business with his bold business acumen, his critics dub him 'the wolf in cashmere' for his stealth in business and exclusive focus on profitability.
The Man Behind LVMH
The LVMH group was born in 1987, when trunk-maker Louis Vuitton merged with the wines and spirits group Moët Hennessy. It is headed by French billionaire Bernard Arnault, who became a household name when he hit the headlines for overtaking Tesla and Twitter boss Elon Musk as the world's richest man late last year. His net worth has been pegged by Forbes and Bloomberg at US$191 billion and US$172 billion respectively.
Born to an industrial family in Roubaix, France, on March 5, 1949, Arnault attended the Roubaix lycée and the Faidherbe lycée in Lille. He then went on to study at the Ecole polytechnique. Taking control of his father's construction firm Ferret-Savinel in 1971, eight years later he changed the company's name to Férinel Inc. With that, he also shifted its focus to real estate.
More change was to come… Putting in US$15 million of his own money, Arnault, along with Antoine Bernheim, a managing partner of the French bank Lazard Frères and Co., managed to raise the US$80 million needed to purchase Boussac Saint-Frères. The latter was a bankrupt textile company that owned the fashion house of Christian Dior.
The subsequent decades saw him expand his luxury retail empire by helping merge Louis Vuitton with spirits company Moët Hennessy. Invited to invest in LVMH by the company's chairman, Henri Racamier, in 1987, Arnault went ahead through a joint venture with Guinness PLC. Three years later, Arnault had ousted Racamier. In 1989, he became the majority shareholder of LVMH Moët Hennessy – Louis Vuitton, creating the world's leading luxury products group. Thereafter began his widespread induction of fashion companies into the LVMH fold. From Christian Lacroix, Givenchy, and Kenzo, to the leather goods companies Loewe, Céline, and Berluti, along with jeweller Fred Joailler, the world's biggest duty-free chain – the DFS group, and the beauty retailer Sephora, the sweep was immense.
He has been Chairman and CEO of the company since then. He is also President of the board of directors of Groupe Arnault S.E. (his family holding company). With a controlling stake in the resulting holding company, he controls roughly half of LVMH.
Fashion's Fave
Meanwhile, Arnault's reputation grew in Europe as the man who revitalised French couture with his incredible foresight. In 1995, he appointed British fashion designer John Galliano as Creative Director of the Paris fashion house Givenchy. A year later, he moved Galliano to Christian Dior and brought in the brash British fashion designer Alexander McQueen in Galliano's place at Givenchy. Next, he hired the young American designer Marc Jacobs as Creative Director at Louis Vuitton; LVMH also acquired a majority stake in Jacobs's eponymous line. In time, though all three designers moved on, Arnault had successfully revived interest in these traditional fashion houses. It's no surprise that 'Women's Wear Daily' went ahead and dubbed him the 'Pope of Fashion'.
His luxury brand acquisition spree continued with his takeover of Italian company Fendi (2003), iconic French department store La Samaritaine (2010), Italian jewellery brand Bulgari (2011), and the more recent classic American jewellery brand Tiffany & Co (2021).
Business Inspiration
In an interview with 'Forbes' in 2010, Arnault pointed out that he saw himself as an ambassador of French heritage and culture. He takes pride in maintaining and growing what are some of France's iconic brands and designers. And he does not allow the grass to grow under his feet… Frequently checking in on the retail locations of LVMH's brands and – more importantly – their competitors, he sometimes visits up to 25 locations every Saturday!
The main bulk of Arnault's wealth is connected to LVMH's stock, which has grown nearly 65% since 2020. His personal fortune has equivalently grown by billions. A billionaire for years now, he is believed to have adopted strategies employed by Steve Jobs and Warren Buffett to build wealth. He cites fellow billionaire and Berkshire Hathaway Chairman and CEO Warren Buffett as the person he admires most in business. He has gone on record to say that he particularly appreciates that Buffett is a long-term investor and has brilliant ideas to which he adheres. Like Buffett, Arnault too believes in the importance of patience in business. That he has amply cultivated this quality is seen in his courting of Italian jewellery brand Bulgari for a decade before he swooped in to acquire the company in 2011.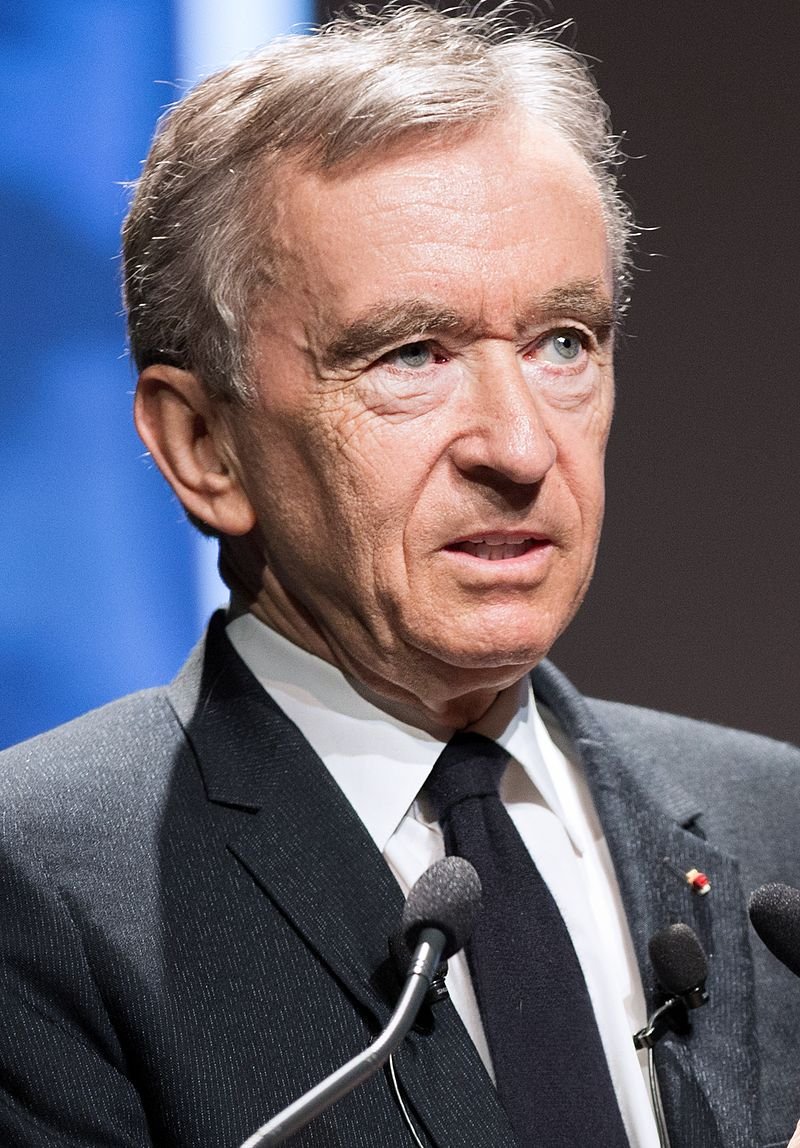 Arnault has also made his admiration of Apple Co-Founder Steve Jobs, apparent. He saw Jobs' success at Apple as "a combination of creativity and a keen sense of how to manage for growth." He sees a parallel in his own role as CEO of LVMH, which requires him to "transform creativity into business reality all over the world." It demands, in his opinion, the need to be connected to innovators and designers, and also make their ideas liveable and concrete.

Looking Ahead
At the company's first in-person earnings presentation since 2020, in the auditorium of the LVMH headquarters located on 22 Avenue Montaigne, Arnault said, "For 2023, I am quite confident. If the early part of the year is confirmed, if the opening of China is confirmed, it's a bit short but the start is extremely strong. We'll see, we can't guarantee that it's going to continue like that, we can't guarantee that something might not happen. We hadn't expected the Ukraine issue two years ago. But if it continues as it is, it will be an excellent year. We'll be able to continue to develop our investments and gain market shares."
Further commenting on the outlook for China, he said, "It's hard to predict what's going to happen in China. China needs economic growth for its people. This growth has slowed down. I am quite confident that the Chinese leaders will use this period to revitalise Chinese growth. If this is the case, we have every reason to be confident and optimistic about the Chinese market. In Macau, where the Chinese can travel, it is incredible. The stores are full." He also dismissed concerns that the stores in Europe won't be able to maintain high-quality experience due to capacity once Chinese tourists return. "The line outside the stores will probably lengthen but inside there will be the same number of people who will get the same level of service."
He also waved aside concerns that Louis Vuitton might lose its exclusivity now that it's a more than €20 billion brand. "Even though the brand attracts different clientele, we manage to move desirability forward," he said. "Brand desirability is the criterion that we watch the most. Desirability doesn't suffer from the size of the brand… It's a concern that I have been hearing since I became the CEO of LVMH in 1989… At the time, Louis Vuitton generated less than €500 million in turnover. Don't be overly impressed by size. What counts above all is quality. Today, products are selling incredibly well while being difficult to find. If today you want a Kusama yellow bag [from the Louis Vuitton collaboration with Yayoi Kusama] at the Champs Elysées [Louis Vuitton flagship], there are none left, it's quite simply out of stock. I am not at all worried."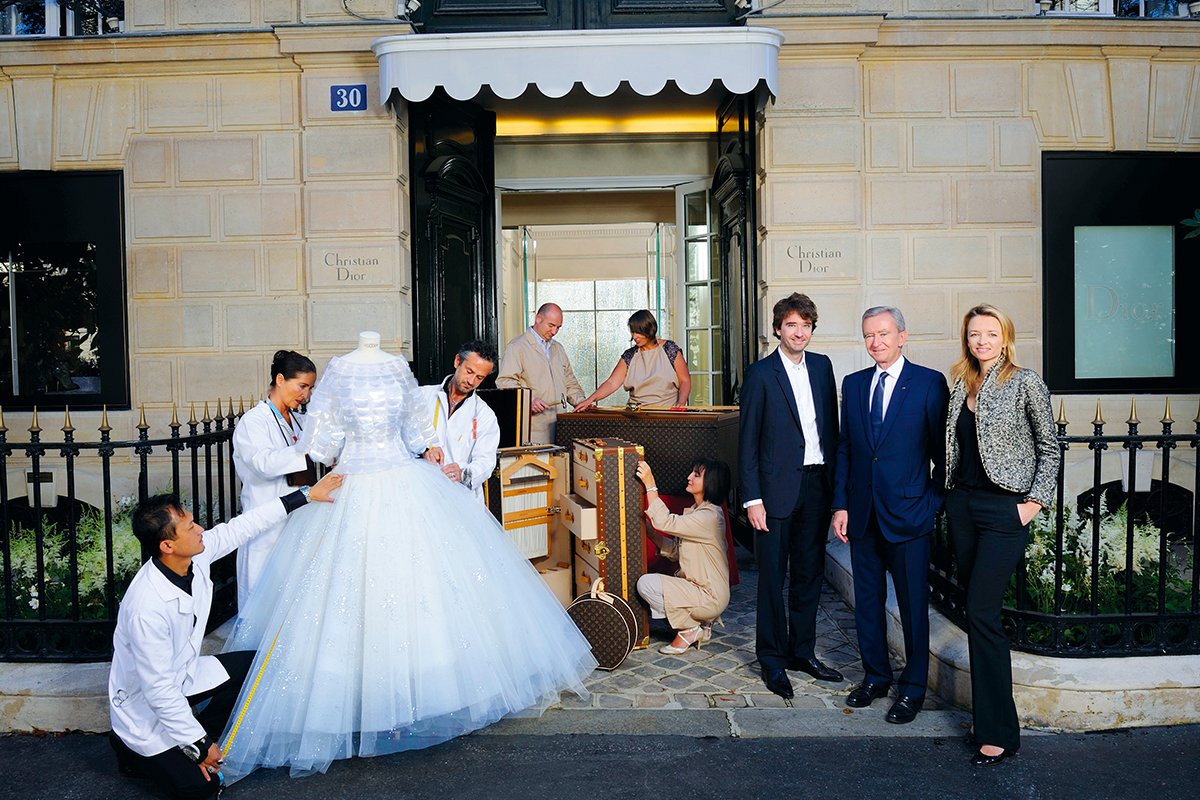 Heirs Apparent
At the conference which was also attended by Arnault's five children, he was quizzed about his succession plan. Side-stepping the question, he joked about France currently raising the retirement age. That said, in recent months, the 73-year-old Arnault has reshuffled the company's leadership, placing his children in leading position jobs, as the family tightens its hold on LVMH. In December 2022, his eldest son, Antoine Arnault, was named CEO of holding company Christian Dior SE, which controls LVMH; he also holds other positions within the group. His daughter Delphine Arnault will take over as head of the Dior perfume and fashion brand on February 1, 2023. Of his other sons, Alexandre Arnault is an Executive VP at jewellery brand Tiffany, Frédéric is CEO of watchmaker Tag Heuer, and Jean Arnault is Director of watch development and marketing at Louis Vuitton.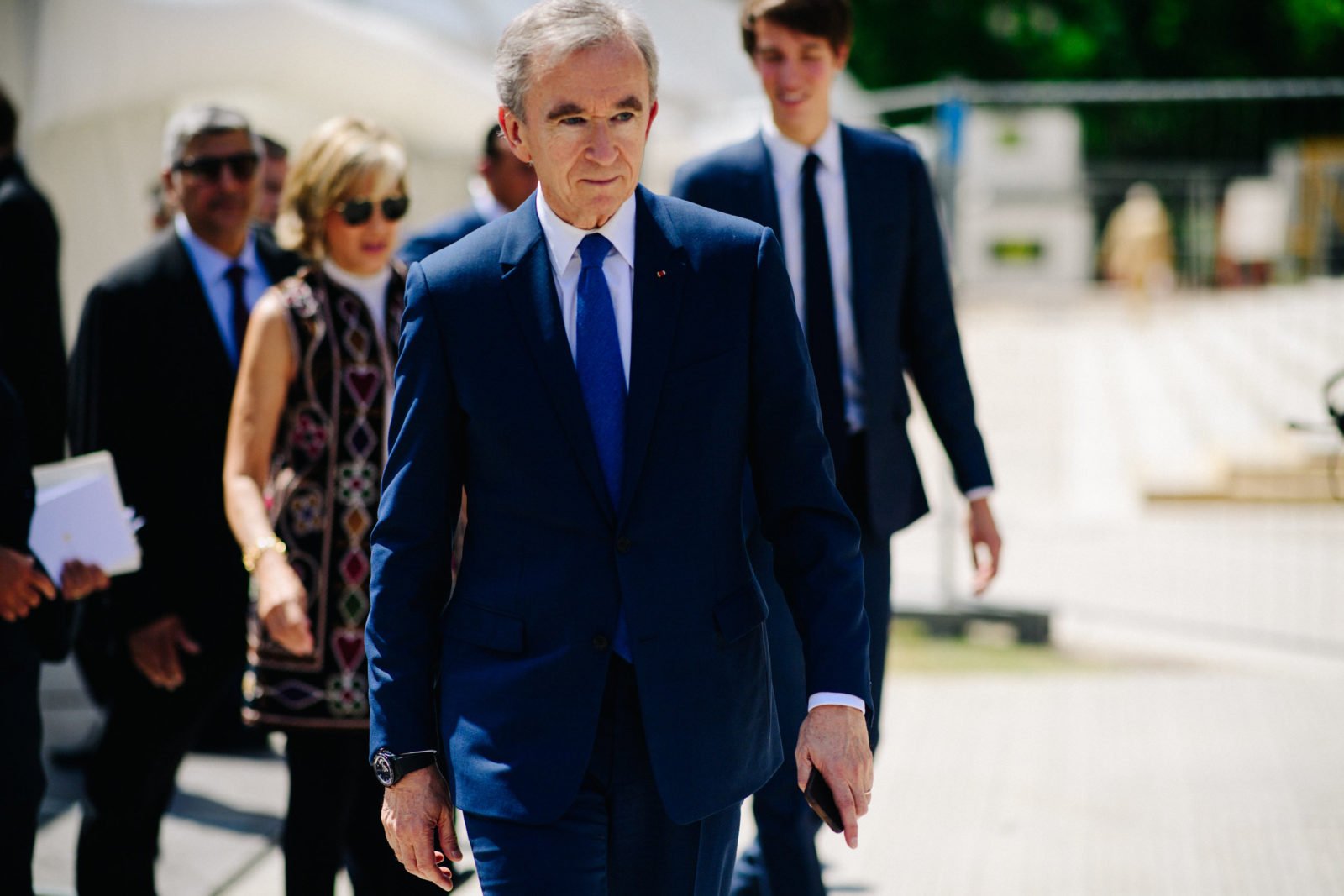 Off The Cuff
Bernard Arnault is known to be a workaholic, spending every possible minute at his desk.
Gifted at making friends in high places, Arnault was on close terms with the late French President Jacques Chirac. His daughter, Delphine is also close to French First Lady Brigitte Macron, who has also worn Louis Vuitton.
At one point, he was also close to President Donald Trump and had even flown with the latter in Air Force One to open a Louis Vuitton leatherware workshop in Texas.
Arnault separated from his first wife Anne in 1990. An accomplished pianist, he is said to have wooed his second wife, Helene Mercier, a concert pianist, by playing Chopin and other classical composers on the piano, on one of their early dates.
A serious art collector, he bought his first painting, Monet's London Bridge, at an auction in 1982 for £200,000.
In 2014, he opened the Louis Vuitton Foundation Museum to display his formidable collection of contemporary artworks in the Bois de Boulogne just outside Paris. It was designed by Canadian American architect Frank Gehry.
Arnault has been awarded the honorary titles of Grand Officier de la Légion d'Honneur and Commandeur des Arts et des Lettres. 
Besides a house in Paris, Arnault has a mansion in Clairefontaine in the Ile-de-France region at which he spends weekends. He also owns a 133-acre island, Indigo, in the Bahamas. He is also said to be a major investor in the redevelopment of the Balkan country Montenegro.
His super-yacht, Symphony, which can comfortably take 16 guests and 27 staff, has a price tag of £100m (in 2019), while he also owns a Dassault private jet. Incidentally, last year, he told the LVMH-owned Radio Classique that he sold his private jet because he had been Twitter-shamed over his frequent use of the plane!
Known to enjoy tennis, he would even pay Wimbledon champion Roger Federer to coach him. Ever ambitious, he had once said of his match against Federer: "Obviously I lost 6-0, but I won a point… my goal is to gain two points against Roger Federer."
He is known to enjoy a long-time rivalry with fellow haute couture kingpin Francois-Henri Pinault. The two fell out in 1999 when they were trying to buy Gucci. The similarities are astounding… each opened museums in Paris to exhibit their art collections, and both also made very public donations to the rebuilding of Notre Dame Cathedral. They clashed again more recently in their respective propositions to take over Tiffany's (Arnault won this round as well). 
Bernard Arnault has inspired several books. These include 'Think Like Bernard Arnault: 15 Business Principles to help Grow your Business like The Richest French Billionaire', 'Everything Luxury: The Branding Strategy Of Bernard Arnault', 'Bernard Arnault: Luxury Mogul Becomes World Richest Man', and 'Bernard Arnault: Inside Story Behind The World's New Richest Person, Biography, And Everything You Need To Know', among others.