Brilliant fashion designer and revivalist Manish Malhotra is revered in the Hindi film industry and beyond… every star and celebrity clamors to be dressed by him! Andrea CostaBir urges him to share the secrets of his colossal success over the last 30 years and counting!
Manish Malhotra is synonymous with dressing up the who's who of the Hindi film industry for the last 30 years. How did you get into this space and continue to rule it three decades later?!
I'm glad to share a commonplace in this industry to house the best actresses and actors over the years. I've always believed that fashion and films go hand-in-hand, so the clothes need to align to bring the characters alive to justify the role and the scene. I debuted in the '90s as a costume stylist and designer; I was the first to read scripts – an unheard of practice in Hindi films then. I believe that costume is integral to visual storytelling to make the characters more relatable to the audience. With costumes comes styling, make-up, accessories, and the whole look that gives the much-needed depth to the character.
You have dressed up generations of beauteous actresses and other celebrities. What is the key to staying relevant in the fashion industry?
I believe the contemprarized fantasy and dreams stem from the story of heritage textiles and craft. Our origins are so strong that modernizing the Indian handloom does not necessarily mean propelling it to conform to modern times but instead merging the traditions, the refinement, and the impact of the handcrafted creation with the identity of today's globalized generation.
Kareena Kapoor Khan, Karisma Kapoor, Gauri Khan, Natasha Poonawalla, Janhvi Kapoor and so many other divas swear by your creations. What makes them trust you with their style statements over and over again?
I've been privileged to dress an entire generation of Bollywood actors and their progeny on and off the screen, and it has been lovely styling all of them. I share a personal and deep bond with all of them; however, I feel work at the end of the day must be dissociated from personal equations. Moreover, each of these ladies, be it Kareena, Gauri, Karisma, Natasha or Janhvi, possess a unique style, and giving them a personal narrative every time I design for them has not only improved our work equation, but also created opportunities for innovation and experimentation.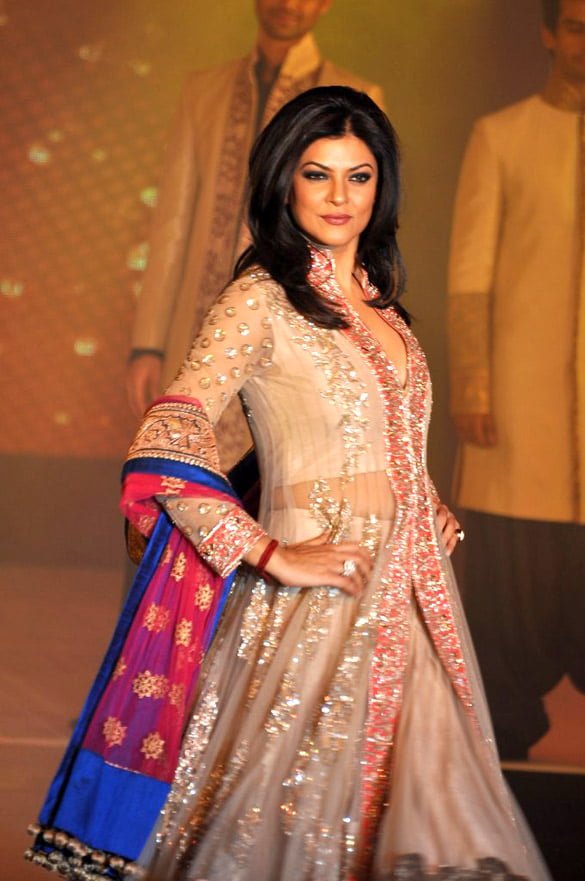 Deepika Padukone and Ranveer Singh were showstoppers at your recent fashion show for Mijwan. Are they your favourite muses currently?
Ranveer and Deepika have undeniable electrifying chemistry. I couldn't think of anyone else but them to muse this extraordinary collection that celebrated purpose, people and progress. Both of these talented superstars symbolize independence, power and passion. Their support and belief speak volumes about their contribution to communities at large.
You share a very close bond with quite a few filmstars… who are you closest to and why?
I feel unsaid, unexpressed gratitude for the actors and filmmakers I spent a lot of time with during my work. Every experience is unique and different. I treasure every moment with them.
Define Brand Manish Malhotra.
The Manish Malhotra brand is about making an innovative statement in timeless, contemporary classic and responsible collections that tell the authentic stories of Indian craft and artisans.
What is your design philosophy while creating clothes for both, women and men?
I run my business out of pure passion; the lines between my work and play have blurred. My work trips are often accompanied by personal recreation, such as travelling, discovering cultures, art and architecture, and meeting old friends and new people. Every experience is linked to my design expression. However, my wearer's delightful personality brings out multiple variants of philosophy.
Describe your work ethic that has kept you at the top of your game for decades.
It's about the people, progress and a strong purpose to protect and preserve the craft. My brand is all about 'Couture, Customised, Modernised, Indian, Timeless Clothes' that promote Indian craft with passion and patience. Over the course of 30 years I have witnessed obstacles, seen immense growth, success and change. Out of all, my personal favourite is change. Change for me means moving ahead with the times. It never hurts to try something new. With the required efforts and long-standing experience, I can transition from one segment to another while maintaining my signature aesthetics. Being in fashion, I've always looked at the bigger picture beyond fashion. My fashion inspiration is the outcome of innovative research, which, in turn, is an essential part of my design.
Since you enjoy a huge fan following and client base in the NRI arena, can you tell us what sartorial differences do you notice among Indians residing in India vis-à-vis the Indian diaspora across the world?
I don't see them as NRIs or Resident Indians. They are global citizens representing India. Moreover, I feel style is something personal. Everyone's perspective toward fashion is subjective. We need every Indian right now to focus on promoting Indian craft and artisans to keep our legacy alive and thriving. Be it their individual way or by wearing an Indian brand that supports handmade designs.
You formally teach aspiring designers the art and science of design. Tell us more about the design course you are involved with.
The London School of Trends partnered with me to facilitate students through video lectures where I share my experiences from my 30-year career and the study material to enhance their skills. Apart from the basic curriculum, what makes it different is the practical knowledge I impart that one would not find in the realms of a textbook. But it's difficult for me to connect with the students daily.
What advice would you give fashion design students and aspiring designers?
Have fun, experiment and most importantly, find something you're truly passionate about. Then you would not just be working, but genuinely enjoying the journey and bumps on the way. Also, interpersonal relationship-building skills are really important; interacting and meeting new people is necessary to widen your knowledge. These skills cannot be taught, but can be gained only through practical knowledge.
You have corporatized Brand Manish Malhotra with your joint venture with Reliance Brands Ltd. What are your hopes from this association?
Expansion plans are under way; we shall reveal the details soon. I would not dive deep into the business jargon, but yes, the plan is to expand our customer base exponentially; we are currently weighing all our options and formulating plans. With Reliance, we hope to go more corporate and systematic. It's the corporatization of Indian fashion that's going to happen now. I'm not business educated, so this will help us with technology and sustainability. I'm grateful to have known the family closely. There could have been no better strategic partner to accompany us on our journey of global reach, business diversification, promotion of Indian craft worldwide, and renewed creative growth.
Could you give us a peek into the daily life of Manish Malhotra?
If I could work 48 hours a day, I genuinely would. I am an early riser. Depending on my schedule and being the last to leave, I could also be the first to reach the office; I'm so passionate about my work. It's usually hectic. One day I'm in Mumbai, next day Delhi, then Hyderabad and I could go to Dubai for two days and return. The hustle comes with wearing many hats: shoots, administration, production, working with karigars, designing, brainstorming, marketing, and store visits.
After immeasurable success, do you still have any dreams left to realize?
Success is a journey; it's an overwhelming one, and you're either exhausted or ecstatic. It doesn't stop at one destination. And it hasn't stopped for me in the past 30 years.