Michelle Yeoh is finally getting the roles and global recognition she deserves. But the road to becoming the first Asian actress to secure the Oscar for Best Actress In a Leading Role has had its fair share of roses and thorns.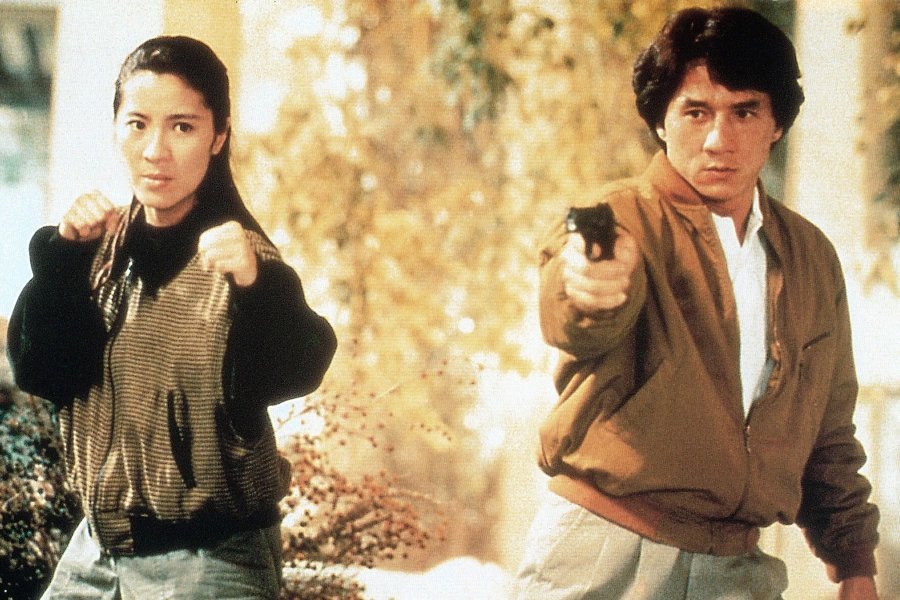 By Tsunami Costabir
'Everything Everywhere All At Once' has become the buzz around town, winning every possible prestigious award, and leading lady Michelle Yeoh's stellar performance has been lauded, celebrated and how!
Over her four-decade-long career, Michelle has been battered, bruised, and rejected, but she hasn't relented. And it doesn't look like she's ready to stop any time soon.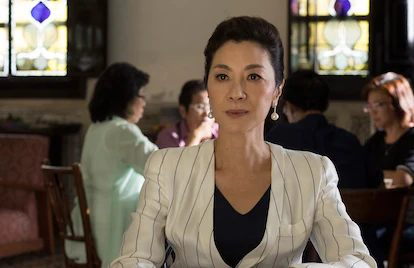 Her message goes out not just to the youth of the world but to anyone with a dream. Anyone who has ever been told that they're too old, too ethnic, too bold — or too anything. Michelle huddles between extremes and breaks any and all barriers that show up in between.
To better understand the person in question, here's a fun story: While filming for a stunt, she leapt off a speeding van onto a convertible, bounced off the windshield, and had a near-death experience as she tumbled onto the pavement. She then got up and did the stunt again.
History Maker
2023 marks the year Michelle Yeoh became the first Asian and the second woman of colour to win the Academy Award for Best Actress for her performance in 'Everything Everywhere All At Once'. In the artiste's own words, she "'kung fu'd the glass ceiling" with her historic best actress win. On Oscars night, the film went on to win seven of the 11 nominations, including Best Picture. Among its other wins were Best Original Screenplay and Best Director for the duo Daniel Kwan and Daniel Scheinert.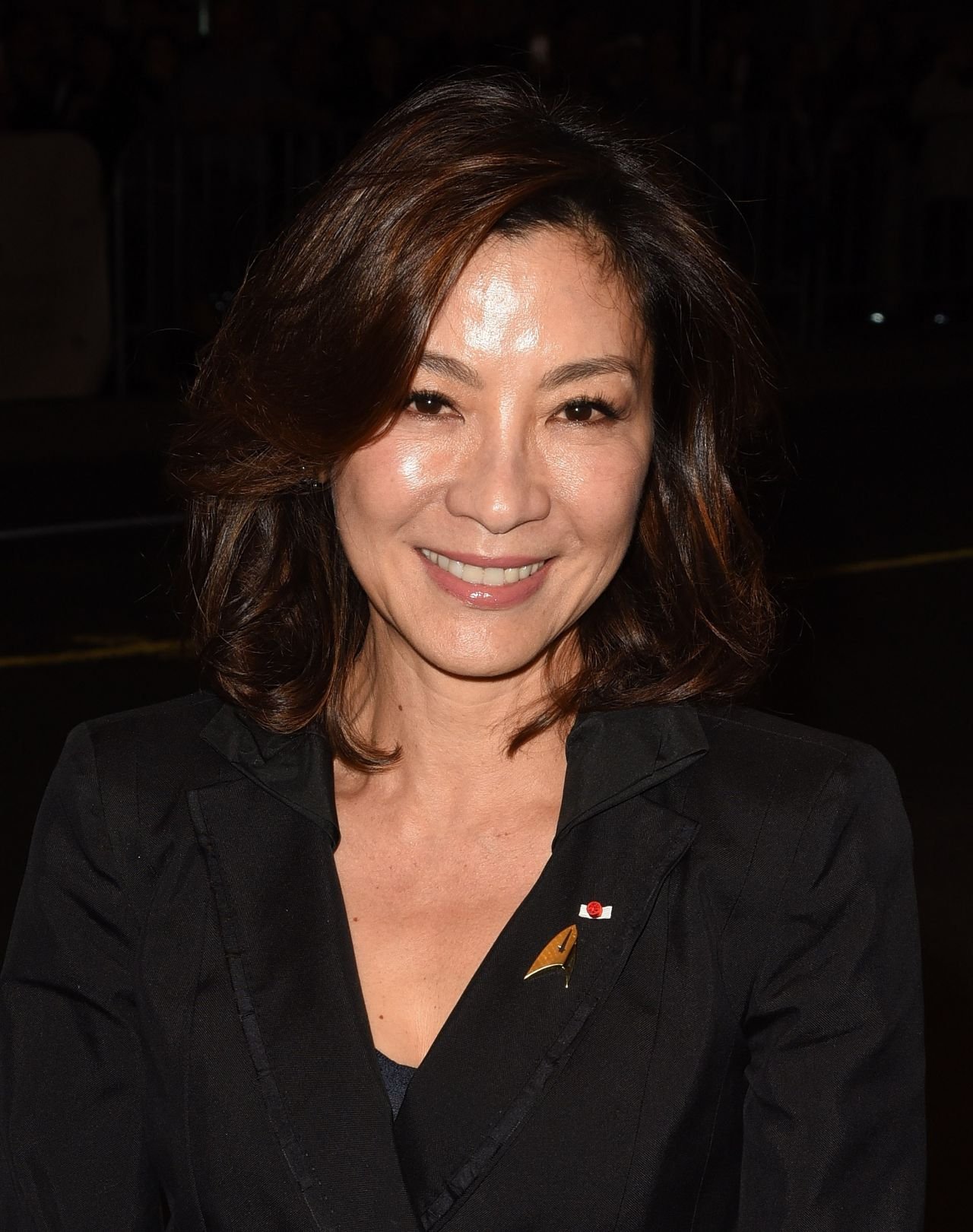 Michelle gushed while accepting her Oscar, "For all the little boys and girls who look like me watching tonight, this is a beacon of hope and possibilities. This is proof to dream big, and dreams do come true." She went on to add: "Ladies, don't let anybody tell you you're ever past your prime."
Michelle already made history with just a nomination. At the time, she said her Oscar win would be, "for a whole community of Asians who need their stories told." With her award, she has also entered the history books for becoming the first Malaysian-born performer to be honoured with a Best Actress Oscar.
Yeoh's secret to success just might be the way she takes failure in her stride. Once you make a mistake, you "know what you didn't do right." So it's the perfect time for you to get back up and try it again, she told a publication.
Where It Started
Born on 6 August 1962 in Ipoh, Perak, to a Malaysian-Chinese family, Michelle started learning ballet at age 4. At 16, she moved to London to study dance at the Royal Academy. At the time, she dreamed of a career in ballet, but her limbs were declared "hopelessly stubby" by the faculty of the school. She continued to pursue her dream, hoping to be a teacher of dance, but a back injury thwarted that plan.
Upon her return, her mother entered her in the Miss World Malaysia beauty pageant. Michelle was reluctant but complied in the hopes to "shut her up". After winning the pageant, she competed in the Miss World pageant in London and then took part in the Moomba festival's international beauty competition in Melbourne, Australia, in the March of 1984.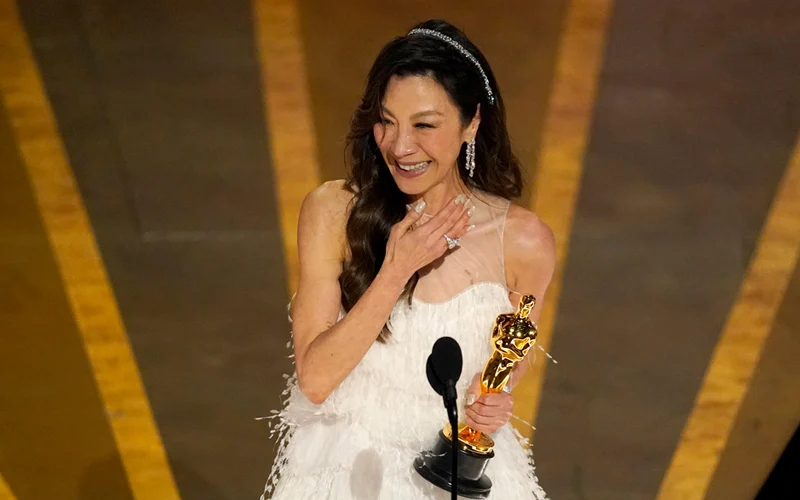 Michelle's first working job was a commercial with Jackie Chan. In the ad, she rides past Chan on a scooter, catches his eye and causes him to fall off his bicycle. A startup production company in Hong Kong saw the ad and cast Michelle in her first two film roles – first as a damsel-in-distress and then as an action hero. Her ballet skills only helped. "[Because of] years of training as a ballerina, as a dancer, I was able to learn movements in a very short period of time," she said. Yeoh and Chan's on-screen partnership would go on to span 15 films.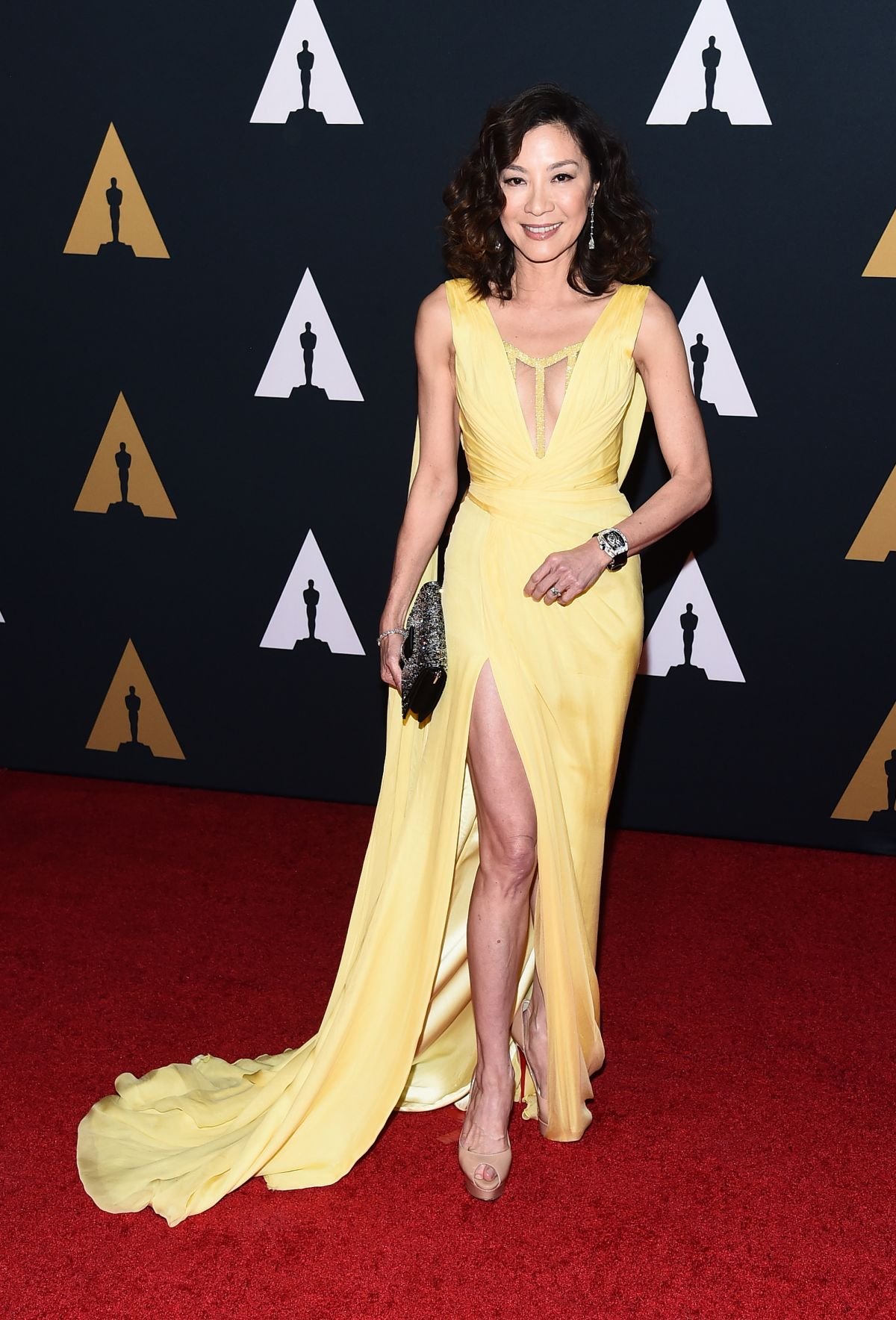 She has opened up about facing discrimination in Hollywood, with people questioning if she "even speaks English." After her 1997 role in the Bond film 'Tomorrow Never Dies', she didn't work for two years because of the stereotypical offers she received.
Michelle exudes a message for young people through her unrelenting work. "My guiding light is you do it because you want to do it — with passion. Our life is a gift, and hopefully, when it's time to go, I will say: I lived it to the fullest," she says.
Way To The Top
According to her impressive IMDb profile, Michelle currently has 59 acting credits under her belt. Much of those ventures have been blockbuster films, but some of her buzziest work has actually been for the small screen, including her role in 'The Witcher: Blood Origin'.
In the 1985 film 'Yes, Madam!', she played the role of a detective. About audience expectations, Michelle says with a chuckle, "They expected that I would just pull a gun and say: Stop or I'll shoot!" only to see her flip backward, shatter glass, and leap across escalators to kick goons!
In 2000, Michelle starred in her first Mandarin-language martial arts film, 'Crouching Tiger, Hidden Dragon'. The critically-acclaimed film was nominated for 10 Academy Awards and won four. Michelle's performance earned her a BAFTA Best Actress nomination.
Vetted By The Industry
Michelle's triumphant return to the screen alongside Jackie Chan in 'Police Story 3', better known in America as 'Supercop', caught the attention of many. "I was just a huge, huge fan of hers. There was always a twinkle in her eye," director Quentin Tarantino has commented. According to him, that was the movie that motivated Uma Thurman during the filming of 'Kill Bill'.
Paul Feig, American filmmaker and writer, recalls his first dinner with Yeoh. "I was terrified. I thought this stoic person could beat me up," he said. But, instead, Michelle made him laugh so hard, he cast her in his next two comedies, 'Last Christmas' and 'The School for Good and Evil'.
In 'Everything Everywhere All At Once', she's a shapeshifter who embodies multiple emotions in a scene. She plays dozens of Evelyns: Blind Evelyn, Chef Evelyn, Actress Evelyn, an Evelyn with hot dogs for hands and an Evelyn made of rocks, showing her facility to switch between comedy and martial arts and then real emotion. Jaime Lee Curtis, her co-star, says by way of explaining her admiration: "I challenge anybody to come up with a better performance."
When asked what it meant to the Daniels to craft a cinematic love letter, Daniel Kwan said, "When I think about my love letters, when I truly love someone and write to them, they aren't precious. They're wild, and they're, they're inside jokes, and they're filled with just a room for that person to grow." He added with reference to Michelle, "I think what we did by accident was we created a love letter to Michelle Yeoh in which we gave her that space to grow, which is what real love is, right? This movie was able to hold all of her past in a small pocket, but also, it just opens up the world and says, 'You deserve to show off so much more of who you are and what you're capable of'."
Michelle was said to be a lot more vulnerable and funny than the Daniels imagined or expected. On working with Michelle on set, Daniel Scheinert said: "It's hard to faze her. Also, Jamie Lee gave Michelle a huge boost of confidence. The two of them would take turns doing such crazy things, like partners in crime."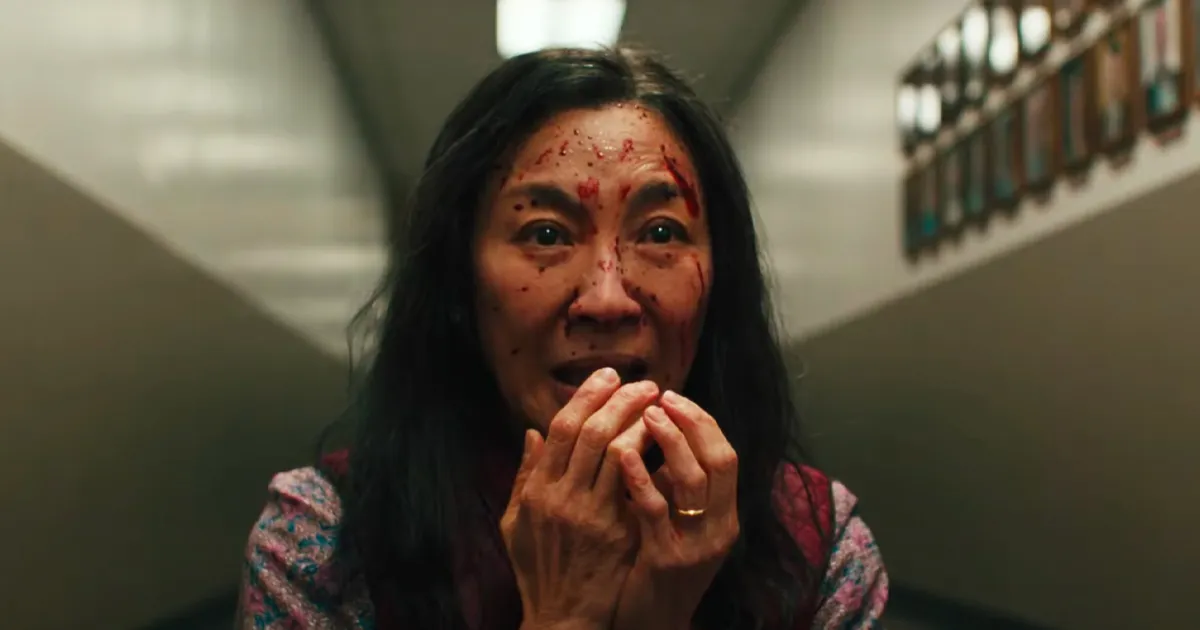 On A Personal Note
Michelle Yeoh was previously married to businessman Dickson Poon for four years, from 1988 to 1992. A few years after her divorce from Poon, she became engaged to Dr Alan Heldman, an American cardiologist from Baltimore, who met Michelle in London during her movie tour for the James Bond film 'Tomorrow Never Dies'. Heldman popped the question in 1999, but the two parted ways in June 2000.
Michelle is now engaged to longtime partner Jean Todt, the recently retired president of the Fédération Internationale de l'Automobile. The federation oversees the Formula One World Championship. The couple met in Shanghai in 2004 and became engaged the next year. Michelle doesn't drive: "I'm hopeless. I've taken my own licence and put it in the safe!" she says. Michelle and Jean are rumoured to be tying the knot this year.
While she doesn't have any children, she has been very open about her desire for them. Fertility issues have prevented the actress from having kids of her own and were the reason for her ending her marriage with Poon. In an interview, Michelle said: "As it turned out, I was unable [to have children]. And if I'm being honest with myself, I didn't want for us to be bitter 10 years down the road. Because in Asian families, people want to have sons and daughters [because] they are an extension and a legacy.
"When you have the realisation [that you can't have kids], you have to deal with it. You deal with the curveballs that are thrown at you."
Looking Forward
"I go forward because life is about moving forward. Failures make us stronger." Michelle has several (about 11) major movies on the horizon, four of them expect to release in 2023. At 60 years old, Michelle's career is nowhere near its end!
Lessons from the GOAT
What sets her apart from the rest is her ability to harness diverging creative talents. She has power-packed action movies like Jackie Chan with the acting abilities of a Meryl Streep type.
Part of her success can be owed to her work ethic. Something that people from the east have ingrained in them. Michelle recalls her early days on the American film set, where she was rather surprised by the pace at which things happened. "In the East, we don't have the time or money for long setups. We work efficiently and quickly," she says.
Even a character like Elenor Young from 'Crazy Rich Asians', she took as an opportunity to showcase the varied dimensions of Asian mothers. Only Michelle could pull off the role of the evil antagonist and be adored the way she was. The Asian community around the world resonated with that nurturing, committed and dutiful mother.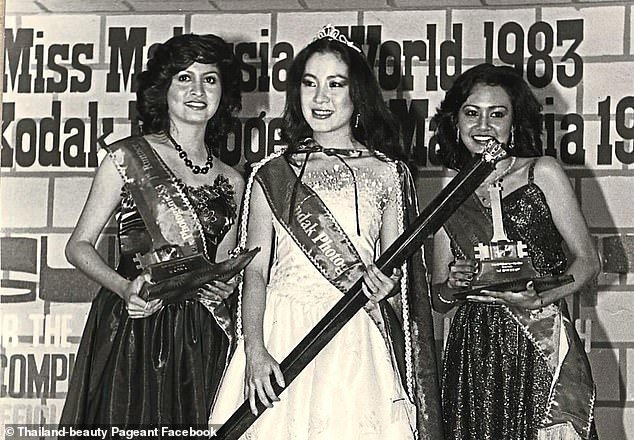 Time and again, she manages to understand and portray the true depths of the characters she plays, with all their nuances. She doesn't take up roles just for fun. She commits to the "sincerity of the character", acting out the depth of emotion it calls for.
There's so much to learn from this iconic powerhouse of a human and artiste. After her Oscar win in 2023, she told reporters backstage while holding up her award, "If this is your passion, this is your love, you have to stand up for yourself and for what you believe in and for what you want to do. I'm still here today… Finally, after 40 years, I get this." Yeoh continued: "Light that fire in your soul and stay on the path. Believe. Dare to dream. Because if you don't dream, it's impossible. Nothing is impossible. Look at me; I'm here."
Her performance in 'Everything Everywhere All At Once' was the performance of a lifetime. When she read the script, she knew it was something she'd been waiting for "for a long time." She felt like it was the first time someone understood her potential. "To be funny, to be real, to be sad – finally, someone understood that I can do all of those things," she said.
Michelle is a trailblazer for Asians and women around the world. The kind of person we would call limitless. No barriers of discrimination with race, gender or age have managed to curtail her creative and artistic genius.