A wise head on young shoulders, Lok Sabha MP Poonam Mahajan has overcome serious storms in life — political and personal. Accepting and learning from the setbacks, she is embracing her role in politics with humility and an attitude of service, just like her 'father's daughter should be'.
By Nichola Marie
From entering politics after the untimely demise of your father – veteran BJP leader Pramod Mahajan in 2006, to your present position as Lok Sabha MP, how would you look back on the journey so far?
I look back at these 17 years as a learning experience. Every human being and his/her journey in life has peaks and valleys. The biggest setback of my life and also to my family is, undoubtedly, the untimely and unexpected demise of my father which created a never-ending void carrying irremediable pain. But, being Pramodji's daughter, the never-say-die attitude remains within me! I live my life with the attitude to fight positively. I never understood my father's political journey as a kid, but I have been able to learn it all now and accept things the way they come, as I live my life in public service. After I entered politics, my defeat in the 2009 Maharashtra Assembly elections was my biggest political lesson. It has taught me to be more humble, hardworking, active, and positive… just as my father's daughter should be.
Were you a complete political novice at the time? How did you learn and find your footing in politics?
I would like to answer this with my innate experiences. I was young and new to this system, so I can't exactly call it arrogance but I relate it more to childishness. Whenever I met the senior leaders or senior karyakartas of our party, they used to say that I have my age on my side. It used to make me feel disappointed when everyone said that I have a lot of time to go ahead. Today, when I look back, this disappointing experience has taught me and given me much more. This journey has taught me to be more patient, organised, positive, and truthful to people. I am learning from my experiences and evolving in life. This helped me find my footing in politics.
You worked your way up steadily, rising in rank in the party. What were some of the factors that helped your growth?
Patience, positivity, consistency, compassion, and empathy have been the biggest takeaways in my journey so far. Even as we call politics a cutthroat business, empathy and compassion in policy-making are very dear to me as policies are always meant for the people in day-to-day life. Politics gives us the platform to do better for society and many opportunities come our way. Not just politics but be it any field of work, it needs us to take lessons and we must always try to be compassionate simultaneously. I try to stay detached from the disappointments that come along the way, as well as the achievements. I feel blessed to have got to use this opportunity as a public representative or, you can say, a sevak. I have been given this opportunity twice which not everyone is blessed with. Because I have been straightforward in my approach, the task becomes a bit difficult. I will give my best to every task that I am given by my constituents and my party.
In 2014, your unexpected win in the Lok Sabha elections over incumbent Congress MP Priya Dutt by a large margin brought you national prominence. To what do you attribute this victory?
I believe the 2014 Lok Sabha elections were about what India stood for. India, as a society, was seeking structural transformation, transparent and strong leadership. There was an urge to throw away the Indian National Congress due to several reasons which we all know. I am not a psephologist but still I will tell you how the 2014 elections in general and my election in my constituency have a convergence – 'the convergence of the aspirations of people'.
After my father, I had a threefold responsibility-:
1. To remain connected to the people and meet their aspirations as they look up to you with great hopes.
2. To establish my individual identity within my political party.
3. To also look after the family, when the family also needs you the most.
I will again reiterate that I had no pressure of carrying the legacy. As in the Bharatiya Janata Party, you get nothing because you come from a particular family; there is no legacy based on dynasty. My journey began with the youth wing of the BJP; I have held several responsibilities at the state level and national level. I contested the MLA elections and lost.
But I gained 10 years of solid training as a karyakarta of the BJP. The commitment, discipline, and work mechanism here is beyond imagination.
I focused on one thing which I learned from my father – that we must be amongst the people and serve with no expectations. The mantra helped me gain faith and acceptance and I believe this is how I have managed to win not only 2014 but all battles of my life till today. If not win, then strongly fight. My people are my real strength.
You have served as the National President of Bharatiya Janata Yuva Morcha (BJYM), the youth wing of the BJP; President of the Basketball Federation of India; and also Chair of the Maharashtra State Animal Welfare Board. Can you tell us a little about your contribution to each of these roles and what made them fulfilling?
The responsibility of being the BJYM National President was a wonderful opportunity and an important responsibility that the party chose me for. The BJYM National President has been a list of big stalwarts in politics and when I was given this responsibility, I felt happy and also scared because the role was huge.
My focus was to:
1. Politically connect and reach the grassroots. I focused on creating a team that had representations from all parts of the country and has voices from all sections. After Uma Bhartiji, I was the only female president and I brought in women leaders from all corners and tried my best to give them a deliverable platform.
2. My focus was to travel and reach out to every karyakarta and every unit of BJYM throughout the country. We did the MahaAdhiveshan in Hyderabad; I can assure you that the political engagement of BJYM in Kerala and Bengal during my tenure was not only vibrant, but we were on the streets every time the people needed us. As president of my state and national unit, we organised movements, sammelans, yatras, and resistances. I will always be proud of my team.
3. On the innovative front, we formed teams to work on knowledge and policy. We formed a study circle of young professors where we had monthly policy dialogues, seminars, and discussions across the country. We organised the first political internship in the country.
4. Our sports cell worked phenomenally and the focus was to popularise Khelo Bharat across the country. We did a college outreach programme to reach out to universities and colleges. I tried to rope in people from every field and create a platform for all. Yuva Morcha, for me, was a great learning experience and it will always be my team.
You are one of the few parliamentarians in the country who has optimally utilised 100% of your MPLAD (Members of Parliament Local Area Development Scheme) fund. What were some of the projects you funded?
I have worked in my constituency for the last nine years on the principle of my PPP i.e. Public-Politician Partnership. I have worked on several projects in my constituency that promoted sustainable development. I have built over 2,100 toilets, community halls, solar lights at different locations, and community activity centres for women. Various beautification works have also been taken up in my constituency. One very important issue was that of a returning wall around the mountainous regions of my constituency's Kurla, Chandivali and Kalina assemblies, which has been built using my MPLAD funds.
Which are some of the causes that are closest to your heart and how has your position as MP helped you make a positive difference?
I have always made it a priority to be open to new ideas and innovations. I have been accompanied by many interns who are right from 14 to 80 years of age. I have always invited young changemakers and enthusiastic citizens to come over to my office. This has resulted in the strengthening of my PPP model with more people working together.
With general elections approaching in 2024, what are some of the strides taken by the Government over these nine years and what are the challenges that remain to be overcome?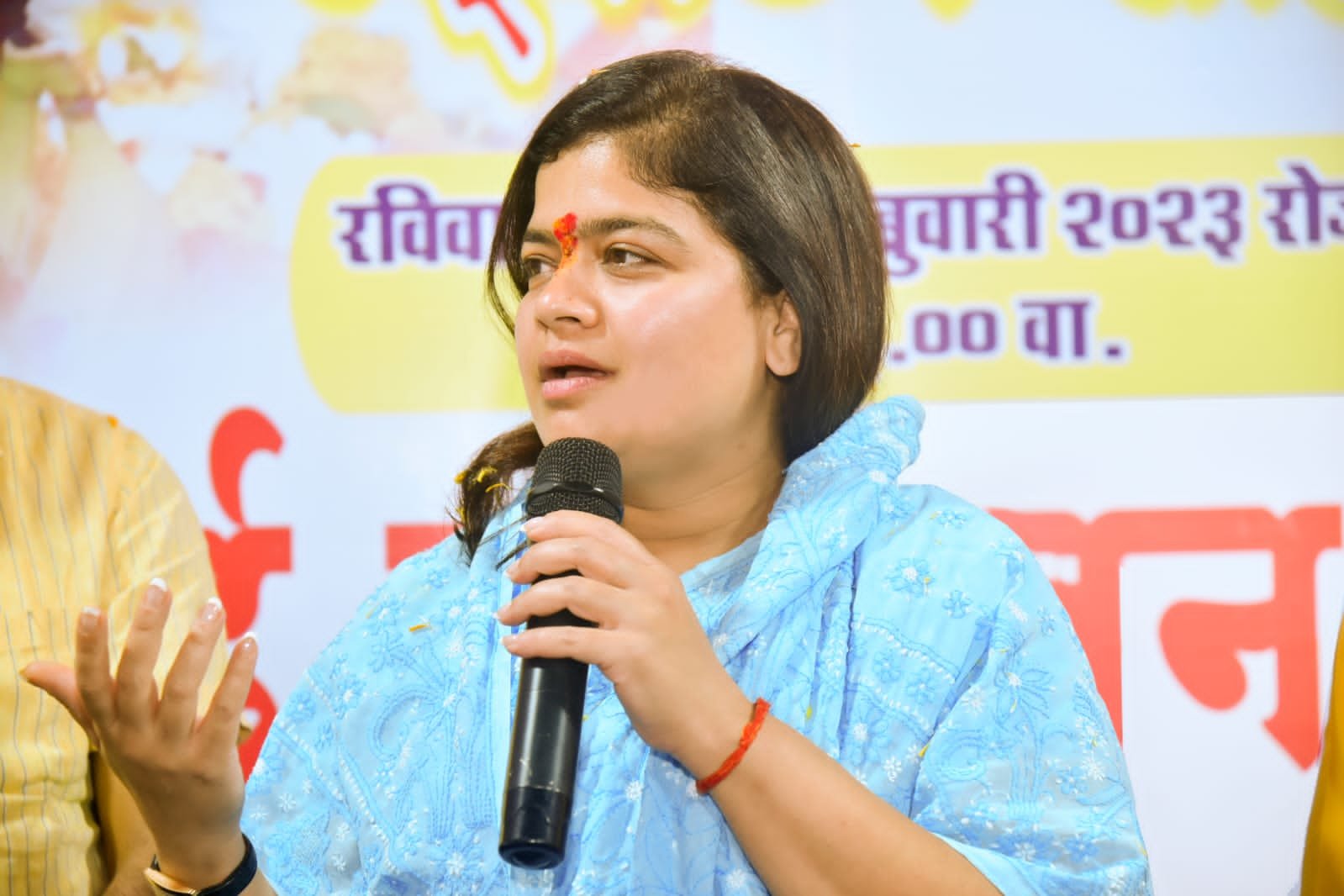 Our Hon'ble Prime Minister Shri Narendra Modiji's infrastructure-centric leadership has brought a revolution in the lives of common citizens. People have loved and supported his vision for a developed nation that keeps infrastructure on top priority. His vision to make India one of the top three economies of the world has garnered global support. When in 2047 India completes its 100 years of freedom, we aspire to become a force to reckon with on the global front. Our Hon'ble PM's popularity ratings have consistently proven that, under his leadership, India has become a superpower. India's recovery on the economic front, post the Covid pandemic, has been an inspiration for even the developed nations. We have preferred the digital delivery of governance with path-breaking decisions like Direct Benefit Transfer (DBT), and opening of Jan Dhan accounts. Our Government has capitalised on the ease of doing business along with several crucial projects like PM Gati Shakti, and Production Linked Incentive (PLI) scheme for large scale electronics manufacturing. We have emerged as first responders to every country that has looked around for help with the Vaccine Maitri where India distributed free vaccines to several countries during the Covid-19 pandemic.
What role do you envisage for yourself in the coming years?
Serving the people has been on our agenda from day one, which is the core of BJP's ideology. Both BJP and I were born in 1980. So, I remain in sync with this ideology of 'Nation First'. It has been a privilege to be a part of the PM's vision for India's growth trajectory.
What is your take on the rapid developments in Maharashtra politics?
Leaders from several parties have reposed their faith and trust in the leadership of our Hon'ble Prime Minister Shri Narendra Modiji which is why we have witnessed multiple turnarounds in recent days. The NDA Government has worked extensively for the welfare of the people of our country.
Do tell us a little about your family life. Are your children politically/socially conscious? Do you foresee a vocation in politics for them?
Avika is just 10 years old but has been an ardent animal lover since she was six. She has been persuasive for the cause that we all should adopt pets and not shop for them. Aadya is an equestrian rider and has represented at the Nationals in Delhi and Mumbai. He is also a singer and writer and is currently in his first year of college. He wants to stay and study in India itself. They both have inculcated the ideas of consciousness, empathy and compassion; and always stress on applying them in their daily life.
How would you define power?
The definition of power lies in being truthful, patient, and dedicated to my work. I believe in compassion and empathy. Power either corrupts or empowers, I believe in the latter. Creating more leaders is my go-to attitude for the future. Being able to empower others, I feel, is absolute power.