To Satya Nadella goes credit for not just transforming Microsoft into a hotbed of innovation, but moulding it into a talent magnet where people want to come and grow. Learn about his winning ways…
By Nichola Marie
Recently, Satya Nadella, Chairman and Chief Executive Officer, Microsoft, spoke about his amazing experience with AI in India. "I was in India in January and saw an amazing demo. The Government has a programme called Digital Public Goods, and one is a text-to-speech system. In the demo, a rural farmer was using the system to ask about a subsidy programme he saw on the news. It told him about the programme and the forms he could fill out to apply. Normally, it would tell him where to get the forms. But one developer in India had trained GPT on all the Indian Government documents, so the system filled it out for him automatically, in a different language."
Tech wizard and visionary, Nadella is focused on Artificial Intelligence's (AI) benefits rather than worrying about Artificial General Intelligence (AGI). He maintains, "I am haunted by the fact that the industrial revolution didn't touch the parts of the world where I grew up until much later. So I am looking for the thing that may be even bigger than the industrial revolution, and really doing what the industrial revolution did for the West, for everyone in the world. So I'm not at all worried about AGI showing up, or showing up fast. Great, right? That means 8 billion people have abundance. That's a fantastic world to live in."
As he dreams of a future where each person can have an AI tutor, doctor, programmer or consultant, Nadella is not at all for controlling or stopping AI experiments, as suggested by several AI researchers and even Elon Musk. Instead of pressing the brakes, he opines that "we should speed up the work that needs to be done to create these alignments."
Trail-Blazing Achievements
If Nadella says we should, we probably must! This is, after all, the man who, after taking over as Microsoft's CEO in 2014, took its market capitalisation from $311 billion to more than $2.26 trillion! Microsoft became one of the first companies to exceed a $1 trillion valuation when it hit that milestone in April 2019. Pre-Nadella, Microsoft was seen as a company whose best days were in the past, but within seven years of his leadership, he steered the company away from a failing mobile strategy and focused on other segments, including cloud computing and augmented reality.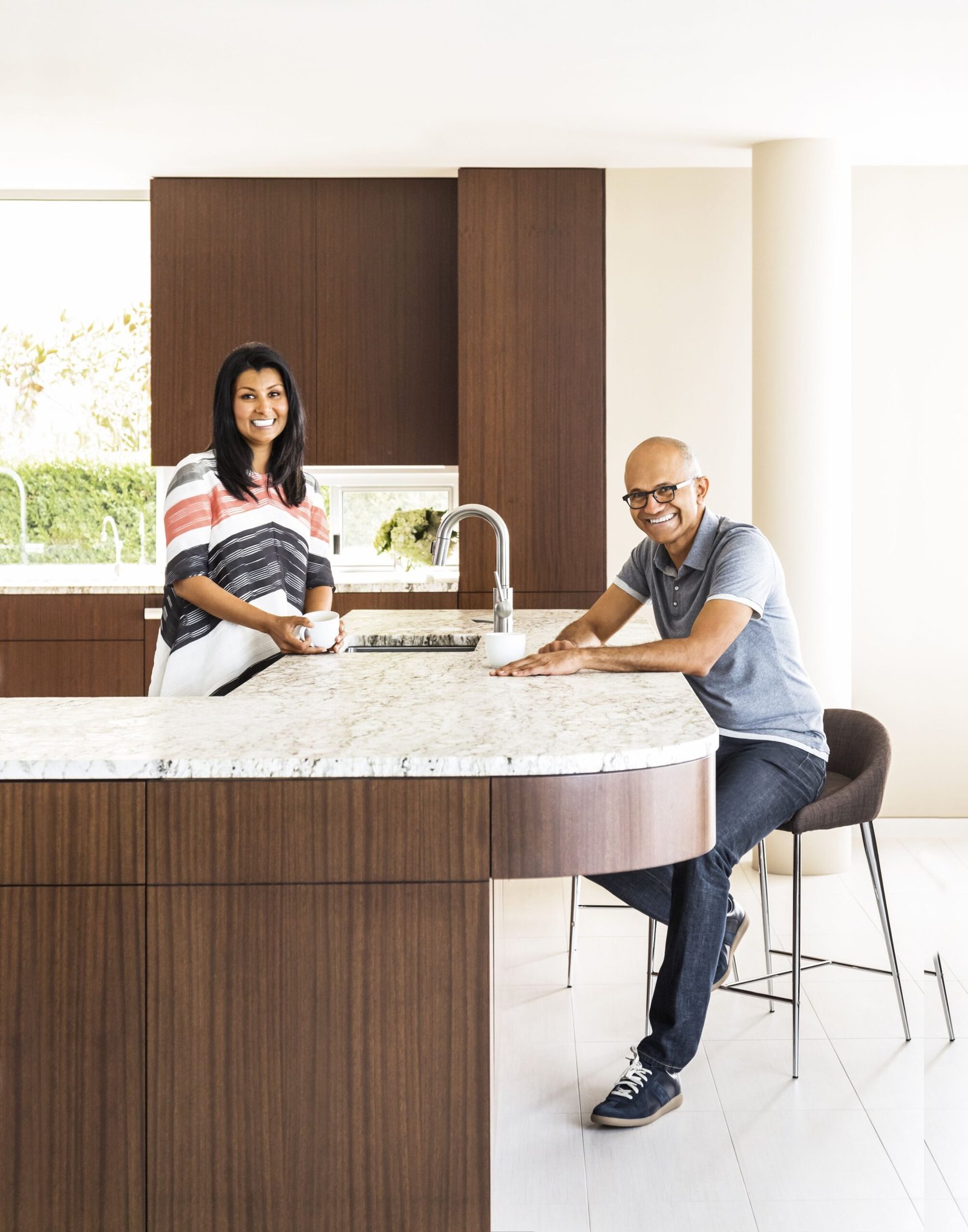 To him goes credit for transforming Microsoft into a dominant cloud infrastructure and services provider, outperforming the market and taking share from competition. Indeed, he has shaped Microsoft into a hotbed of innovation, a talent magnet where people want to come and grow, a world-class technology player and a valued digital technology partner.
Equally importantly to Nadella goes full credit for transforming the corporation using his leadership approach characterised by a clear vision, open and clear communication, courage, humility, empathy, and capacity to generate energy among teams.
A Culture Of Collaboration And Innovation
Nadella's clear vision as a leader is admirable. Even as he expressed due respect to the CEO he replaced, he didn't waste time getting the corporation out of its mobile phones business into a new category of cloud business. Importantly, he didn't restrict his vision to a small group or team but clearly communicated the same to all employees at Microsoft on a regular basis and also invited feedback. In this way, every member at Microsoft stayed informed, motivated, and part of the mission. He is known to regularly send company-wide emails explaining his ideas for not just corporate issues but also his ideas for the company's future.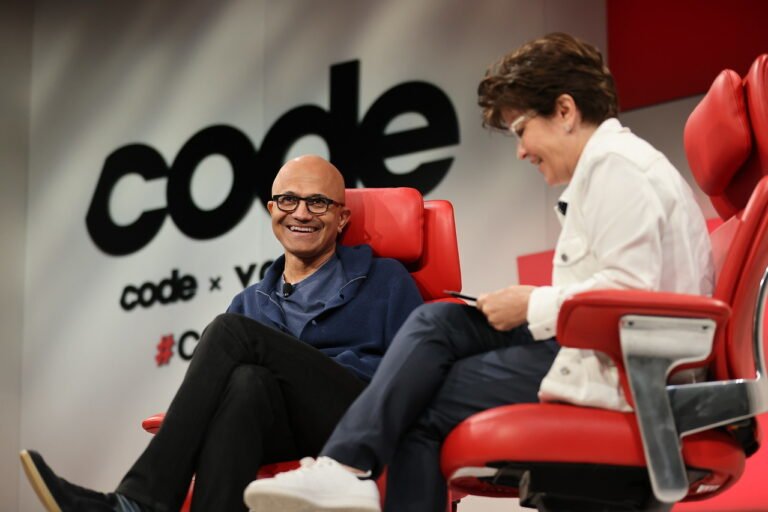 His ability to generate energy through the organisation is exemplary. In order to achieve the kind of success he envisioned for Microsoft, he ensured that the employees, mainly the top leaders, were genuinely enthused and passionate about the company's goals to achieve success in the cloud business. On assuming office as CEO, he brought in major reorganisation which removed both competition and complacency and instead united the marketing and development departments at Microsoft into customer-focused and collaborative ones.
Unafraid to take risks, he displayed courage via the bold acquisitions such as LinkedIn in 2016 and GitHub in 2018, which he engineered as CEO. These moves showed his understanding of and promptness in achieving his vision for the company. This is matched by his growth mindset, which sees challenges as opportunities to grow, change and learn new skills. "As the CEO, Nadella encourages all Microsoft employees to embrace the "learn-it-all" approach and experience innovative ideas and passion projects," writes Prof Dr Amarendra Bhushan Dhiraj in http://CEOWorld.biz . Employees' mistakes are met with an empathetic approach wherein they are encouraged to re-think their designs and approach challenges from a different dimension. Humble and people-oriented, he prefers to focus on employees' achievements, encouraging them to showcase their success at senior leadership meetings.
Did you know…?
• At one point, early in his career, Nadella surrendered his green card and applied for a H1-B visa, as his permanent residency was coming in the way of his newly-wedded wife Anu (Anupama) joining him in the US. "Anu was my priority. And that made my decision a simple one," Nadella explained. "What I didn't expect was the instant notoriety around campus… 'Hey, there goes the guy who gave up his Green card'."
• His wife Anu was also born in India. Their fathers were reportedly IAS batchmates. She studied architecture from Manipal University. Her father, KR Venugopal, was an IAS officer who had worked under former Indian Prime Minister PV Narsimha Rao. She is a homemaker and reportedly gave up her professional career to dedicate herself to bringing up their children.
• The Microsoft CEO has called his wife Anu his best friend and confidant in interviews, giving her credit for helping him emerge as the global business leader he is today, and for keeping him grounded and connected to his roots.
• Anu Nadella reportedly donated ₹2 crore to aid the livelihood of farmers and women in Andhra Pradesh's Anantapur district, as well as ₹2 crore to the PM Relief Fund in India during the Covid-19 outbreak. The couple co-own the Seattle Sounders football club of the US Major League soccer.
• In 2022, Nadella and his wife lost their son Zain, aged 26, who had been born with cerebral palsy. Nadella has often cited the lessons he learnt while raising and supporting Zain. After taking over as CEO, Nadella focused Microsoft on designing products that better serve people with disabilities.
• The couple has two more children, daughters Divya Nadella and Tara Nadella. The Nadella family lives their life away from the limelight.
• Nadella's book 'Hit Refresh' tells the inside story of Microsoft's continuing transformation, tracing his own personal journey from a childhood in India to leading some of the most significant technological changes in the digital era.
• His current net worth is estimated at $1.09 billion. Satya Nadella owns about 788,625 units of Microsoft Corp common stock.
• Apart from the several honours that he has won, he was also awarded the Padma Bhushan, the third highest civilian award in India by the Government of India.
Journey At Microsoft
Before joining Microsoft, Nadella was a member of the technology staff at Sun Microsystems.
At Microsoft, he held leadership roles in both enterprise and consumer businesses across the company. Soon after joining the company in 1992, he became known as "a leader who could span a breadth of technologies and businesses to transform some of Microsoft's biggest product offerings." He served as Executive Vice President of Microsoft's cloud and enterprise group, led R&D for the online services division, and was Vice President of the Microsoft business division.
In 2014, he became CEO of Microsoft, the third person to hold the office in the company's nearly 40-year history, after company co-founders Bill Gates and Steve Ballmer.
Formation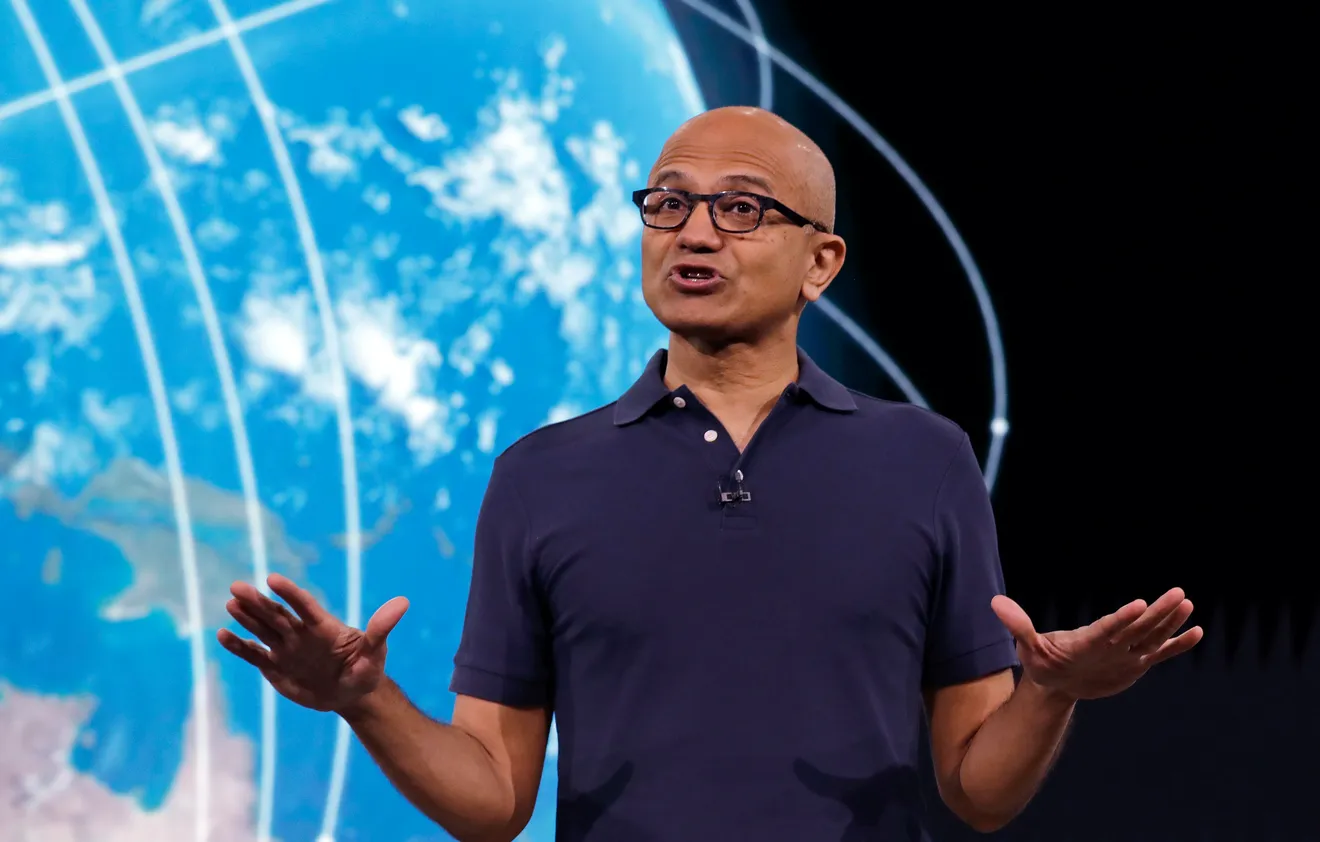 Born in 1967 in Hyderabad, Andhra Pradesh, into a Teluguspeaking family, his mother Prabhavati was a Sanskrit lecturer and his father, Bukkapuram Nadella Yugandhar, an IAS (Indian Administrative Service) officer. He attended the Hyderabad Public School, Begumpet, before earning a bachelor's degree in electrical engineering from Mangalore University, a master's degree in computer science from the University of Wisconsin – Milwaukee, and a master's degree in business administration from the University of Chicago. Nadella serves on the board of trustees to his alma mater, the University of Chicago, as well as the Starbucks board of directors. He lives in Bellevue, Washington, with his family.
As much a humanist as a technologist, Nadella defines his mission and that of the company he leads as empowering every person and every organisation on the planet to achieve more.