Rina Dhaka rescued traditional Indian wear from its baggy beginnings, reinventing it via a never-seen-before infusion of lycra. Decades later, the multiple award-winning designer's cup of creativity is still overflowing; in fact, she has enough design ideas to create line after line for as long as she lives!
By Nichola Marie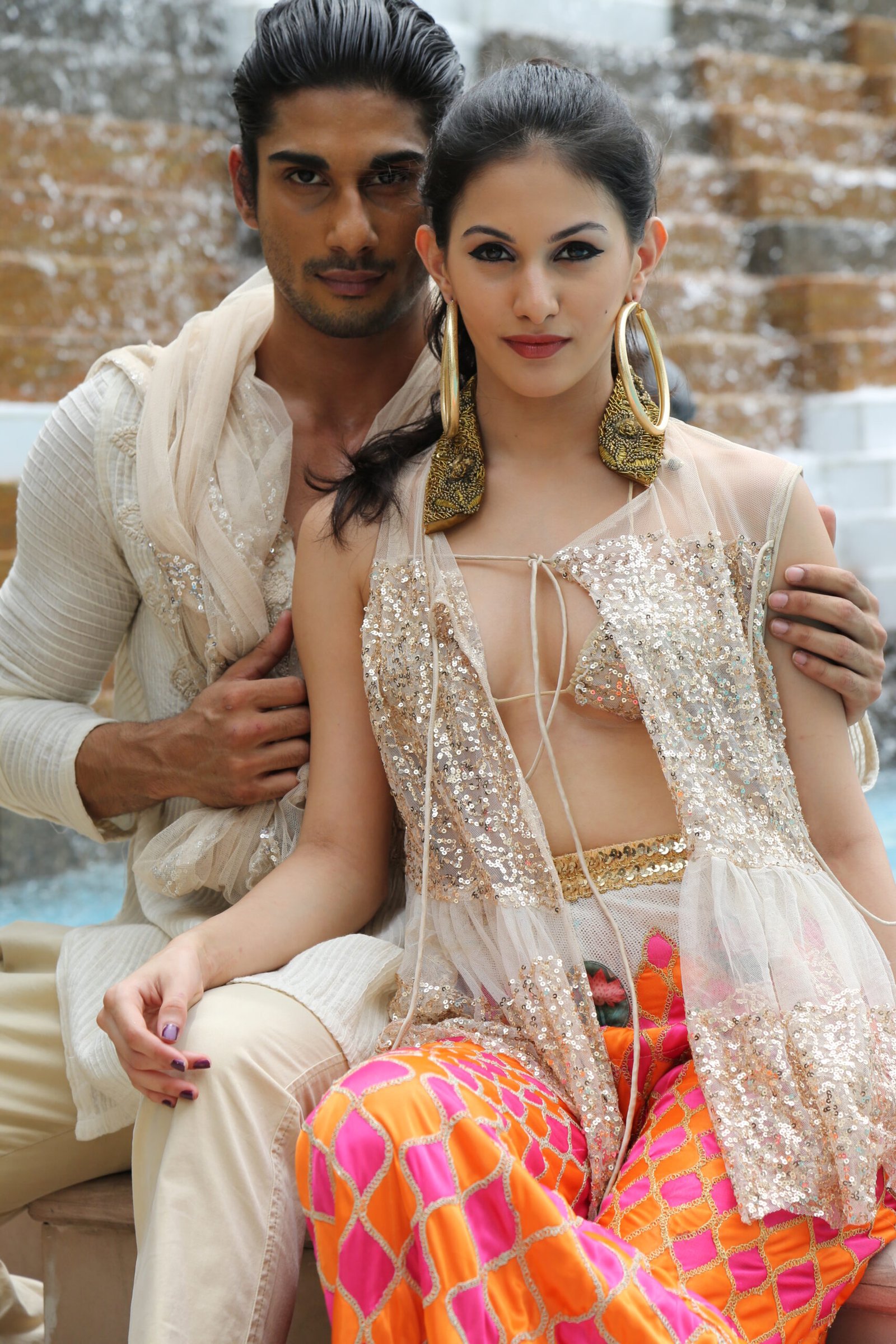 Rina Dhaka wears her success lightly and lives firmly in the moment, her bright mind and agile fingers vividly occupied. Her work is exhibited across the world at the Louvre, Paris; the Metropolitan Museum, New York; London; Mauritius; South Africa; Dubai; Singapore; Hong Kong and USA. Once dubbed the 'Gaultier of the East', she has won several prestigious awards including best designer at the Miami Fashion Week 2004, the Rajiv Gandhi Excellence Award, and has also represented India at the Indian promotions at Galeries Lafayette in Paris and Inters Off in Germany. Yet one gets the feeling, the best is yet to come…
Fashion design in India in current times… How do you view the scenario?
The industry today has been one to rapidly grow. Design schools, stores, exhibitions, the designer becoming the exporter – are all a reality. Fashion, like a virus, has really caught up. From the time I began to where it is now, it's like seeing a small village turn into a bustling metropolis! I guess in this rapid speed energy there will be a downside, wherein money and influence drive more than talent. And the powerful influence of Bollywood, where one tends to clone the scene over having their own original style.
A fashion crusader whose trademark lies in combining traditional Indian garments with 20th century modern fabrics like lycra and jersey, what sparked your own unique design philosophy?
Having been a knitwear student, to make Indian clothes sexy became my mantra. When I was getting engaged in the 1990s, a churidar was bigger than me in height and size! Hence, I created it by making an adaptation of the catsuit. I also used knitted fabrics in most of the Indian traditional clothing, and learnt how to embroider on them. Back then, in the late 1980s, early 1990s, I was the only one who did this and used this style. The lycra churidar, which you see on everybody's legs today, came about as my invention. I could not patent it. The patent office was at a distant place in Kolkata and I was also told that after a period of time, the patent would expire. Even Edison had to release his rights on the light bulb which he had invented.
The lycra churidar basically brought in the element of moving knitwear, stretch fabric, and elastication. I brought it into my Indian clothes like the triangle bra with the sari. We used to make catsuits which were very big again back then. It was because of these applications that I got nicknamed as 'India's Donna Karan'.
BBC even thrillingly referred to you as the 'Gaultier of the East'. What do you think was the reason behind this comparison with the world-famous designer?
BBC did two stories on me. Around 1997, the crew came from the UK to my place. We shot in Khirki village with Sapna Kumar the model and my friend Nandita Mahtani in Carma, Delhi. We shot against the village background with sabziwallahs on cycles. The work they shot probably had both western trends and was yet Indian in sensibility. In the 1990s, Gaultier was like the Madonna of fashion. He was the biggest of all brands and has continued to inspire people. Perhaps I'll never match up but to be mentioned in the same breath as his name was quite a big thing!
How did the journey in fashion begin for you?
When I came around, I was very young – around 19. I was already interning with one of the biggest export houses called Intercraft. From there, I went on to join the first NIFT that came about in India, handled by FIT New York. I'm so grateful to my professors Hilda Friedman and Dean Streiter who gave me my first glimpse into the trade. Learning the foundation from them stood me in good stead. Thereafter, I trained at Trent polytechnic. I also did pattern-making – both women and menswear. I love to learn… fashion has endless teachers! In fact, I would like to go back to study at Rigby and Pellier and do a course in bra-making! There is a technical aspect as well to fashion, like engineering.
Did you face any specific challenges?
In fashion, challenges are from moment to moment. It's really a profession which levels you fairly well. It is driven by something called 'Next'. The moment you feel it's you, your show, you have arrived and have all that hype… in the next five minutes, it is 'Next'! It's no more your story; it's the next story now. Also as entrepreneurs in India, we are in what is called the service industry, where you have to work for your clients and try to give them the joy you hope and anticipate your product brings them.
Which are some of the milestones in your career that fill you with a sense of fulfilment?
To be honest, it's only in hindsight that you realise milestones. Being a founder member of the Fashion Design Council of India (FDCI) was a big one; coming together to form the Council which is such a big deal today and doing our first show sometime in 2000. My first ever fashion show that I did was an art design show with the late Rohit Khosla, Rohit Bal and artists like M F Husain and the late Swaminathan. Backed by the Dalmias, it created the formation of the charitable institution Akshya Pratisthan, which still exists. I cannot describe to you what a powerful day that was, that moment, it was big. I wish there were cameras that captured it. Awards I've received have also been milestone moments such as the Dadasaheb Phalke and the Designer Choice Award at the 2004 Miami Fashion Week, in which 36 designers from around the world, including Sabyasachi, participated. I got the star of Miami from the mayor there and all I remember is wanting to go back to my kids! Being featured in Madame Figaro, Vogue UK… Once I remember travelling and I'd done these T-shirts for Selfridges. I was at an airport and, you know, we didn't have Instagram and all that back then, but then I flip open an international fashion magazine and see oneself featured there… that was a pretty big milestone. When Naomi Campbell came to town, she chose my sari to wear at some Harper's events in New York. She bought a lot of my clothes and even said she took something from me back for Madonna as a gift. Another unforgettable moment was the standing ovation I got at the grand finale of the fashion show I did with Manish Malhotra and Rohit Bal at the Taj, with the queens of Mumbai – Ms Parmeshwar Godrej and Ms Maureen Wadia – in the audience.
Rina Dhaka retails from the exclusive brand outlet at DLF Emporio apart from top design labels across the world like Anthropology – USA; Indomix – USA; Lodenfrey – Munich; Fine Rhine – Hong Kong and eminent multidesigner stores in India. Tell us a little about taking forward the whole business aspect of the brand.
The challenges were immense in terms of retail structure and me not being so business savvy always. In the middle, I also had to give 10 years to growing kids. And those were the years when India scaled up immensely. Also, there is a lot of schmoozing we have to do in our trade, to be honest. It's an undeniable fact. One can't do it anymore because priorities change. Daily one has to surmount so many difficulties that I wish for those easy days when you could give in to the joy of just creating!
How would you say you have grown and changed in your own approach to design?
My design approach has totally changed but now everyone tells me to go back to my original work because the trends have come back! There is no difference between what I did in my early work and what is trending now. I have so many design ideas that I could create line after line till I die! In a lighter vein, I have ADD – I'm too fast, I need to slow down.