Nepotism is a word that is never linked to her name, even though she is the child of two famous film stars. Everything Sara Ali Khan has created in this short span of time is thanks to her faith and efforts alone!
By Nichola Marie
'Pretty women can't be funny' – thank you Sara Ali Khan for smashing this silly myth, every single time. When actresses generally prefer to leave 'em gawking, Ms Khan would clearly rather leave 'em chuckling. But then this non-regular, atypical actress also breaks a whole lot of additional myths, such as: star kids are entitled spoiled brats, B-town heroines are obsessed with their looks, actresses cannot be buddies, heroines are generally drop-outs, etc, etc. And she does it with a delightful grin and zero effort. Which other 20-something do you know — leave alone a top-rung Bollywood actress — who would happily admit that not just her family, but everybody she knows finds her Instagram 'cringe-worthy'?! Remember the joy she took in inflicting the lamest knock-knock jokes on her brother Ibrahim and the rest of the world? Her 'Namaste Darshako' travel vlogs, her inane rhymes that go 'Indian Ocean with suntan lotion' and 'Who is that mammal? Oh wait, it's a camel' …these and more can lull you into believing she's enjoying an extended teenage. But it's definitely deeper waters beneath the happy-go-lucky exterior of Sara Ali Khan.
Wise beyond her years
We should have had an inkling of that when she lost a whopping 40kg, going from 96kg to 56kg, within the span of a year-and-a-half. Then she graduated from Ivy League Columbia University, studying Law and Political Science. And then took forward her childhood dream of facing the camera as a Hindi film actress. "My education was never a means to my career," she would later explain. "It was something that allowed me to be who I really am today. So, it was way more personal than professional. Being an educated person, firstly it gives you confidence, then it gives you a little bit of eloquence, and it teaches you to live on your own…"
The wisdom young Sara has displayed from the beginning itself makes you sit up and take notice. Even dad Saif Ali Khan recently pointed out, "Sara doesn't like offending people or acting smart with people who act smart. She has a calm and polite way, ego doesn't get in the way. She reminds me to be humble in interactions."
It's this lack of ego that sees her analyse her career so far with almost clinical precision. Discussing the highs and lows she has experienced, she observes that first of all, she never knew if she would become an actor. When she did, 'Kedarnath' (2018) happened, followed by 'Simmba' (2018). "The media put me on a pedestal then, much more than I deserved," she says, adding that it took 'Love Aaj Kal' (2020) to throw her down again. Another blow was when her commercial project 'Coolie No. 1' (2020) had to be content with an online release. "I've seen both extremes," she declares, "my journey has been about dealing with success and failures." No one is promised a smooth ride, and young Sara Ali Khan learnt this early on in life.
Learning from failure
She also learnt that frivolity and work don't go together. "Beyond a point, I'm not affected by social media trolls, but I take mistakes in my work very seriously. It's my weak point. I saw the flaws in myself in the film; when you point a flaw in me and I know it is right, it hurts," she says with her trademark clear-eyed honesty. She remembers shooting for 'Atrangi Re' (2021) less than 10 days after the debacle that was 'Love Aaj Kal' released. It was director Aanand L Rai who helped her emerge from her dejection. "He told me you might have it in you to feel small and defeated, but Rinku, my character, doesn't. So, if you are playing her, which you are, you can't have it either. Sometimes the most therapeutic and constructive thing is to hear everyone out but eventually let go. You cannot wallow in self-pity. This is not what the job is for," she would later reveal. The lesson hit home.
Today, she would rather focus on working so well that she enjoys the privilege of being directed by good filmmakers. She understands more than ever the value of a director… "I believe a film is a director's medium and the storytelling is the director's vision. You do what they make you do… You can do well only because of a director.
Her understanding of the medium runs deeper still as she strikes a balance between content and entertainment. Labels don't matter to her; she simply wants to do different kinds of films, and be a part of stories that deserve to be told. "If I get two strong content films which are good, or two entertainment-based films which are hysterical, funny and exciting; I'll do them back-to-back."
Balance is the key, but most importantly, I want to do those films that deserve to be told," she maintains. "I want to do everything – to me, glycerin is as important as mascara" – this classic quote of hers sums up her choices. And she wants to keep making brave ones. Like playing a Hindu girl falling in love with a Muslim pithu in her debut film. Or her more recent Aanand L Rai directorial 'Atrangi Re' in which she plays the role of Rinku Sooryavanshi, a woman who is scarred by childhood abandonment and post-traumatic stress disorder (PTSD), leading to memory distortion and other mental health problems. Her upcoming films hold the promise of variety. She will soon be seen opposite Vicky Kaushal in Laxman Utekar's next, and is also part of 'Metro In Dino' by Anurag Kashyap, sharing screen space with Aditya Roy Kapur. "If my choices are being looked at as me simply doing only massy films, then that would be the closest to a defeat that I can ever get, and I would like to change it," she had once said. And clearly, she has changed that already.
Keeping it real
Sara Ali Khan has come a long way in her growth as an artiste and has no qualms about admitting that she had initially become a heroine "to dance"; that bubble burst when she started shooting for 'Kedarnath'. The actual reality of filmmaking — beyond the makeup and playing dress up — hit then, and hard! From dipping into the Ganga at 5 a.m. to braving sub-zero temperatures, there was nothing glamorous about filmmaking, she realised. But taking the craft seriously also takes away the petty emotions. It's what enables an actor to "live the character's life and do justice to the story, instead of crying hoarse and dwelling on past failures," as she puts it.
And then, she prefers to keep it simple, in life and in front of the cameras. "The universe has a way of equalising us all," she believes. Her mother Amrita Singh's advice has held her in good stead… "She would tell me that if you are shady, a liar or someone with ulterior motives, the camera will capture it. Faith is having a clear conscience because your work will suffer by default." We get the feeling Sara Ali Khan will never run out of faith or a clear conscience…
On being the 'OG Namaste' girl
"I've been doing 'namaste' even before COVID, which is a genuine way of greeting people. I'm very proud of being an Indian. Then, COVID happened and people started doing namaste. So, I became the OG!"
On audience criticism
"I drive a car for myself, not the audience. But I do act for the audience, so if they don't like it, I have to listen to them. I am nothing without them. Now, having heard them out, I can decide whether I want to stay down or decide to do better."
On whether she could play Sharmila Tagore on screen
"She's so graceful. I don't know if I'm graceful. I speak to badi amma (grandmother, Sharmila Tagore) quite a lot, but I don't think I've actually spent much time speaking to her about her career as such. There are so many other things. She's so well-read, interested in current events, and has a great sense of general knowledge. She's such a classy lady and she's had such a life. She has world views and we've spent so much more time talking about that than actually her craft, which I think I should."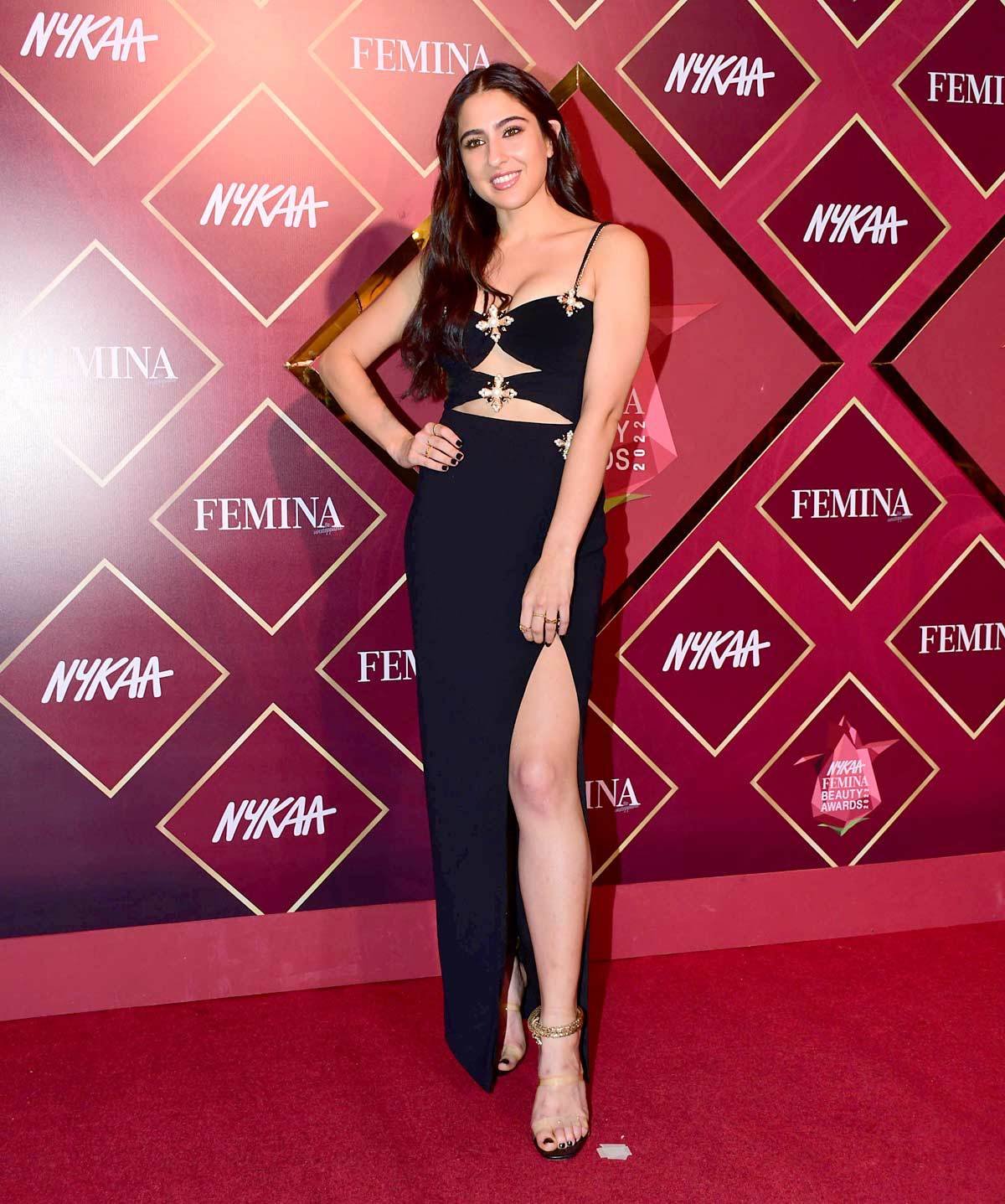 On her equation with Kareena Kapoor Khan
Sara shares a great equation with Kareena, and openly expresses her admiration for her. "Even today there's an element of surprise that Poo (Kareena Kapoor Khan's character) from 'Kabhi Khushi Kabhie Gham' (K3G) is my stepmother. People say I willed it to happen. I must have. After Sridevi, I'm a Kareena Kapoor fan!" She has also mentioned that anyone who makes her father happy, makes her happy as well. Also very fond of her step-brothers Taimur and Jeh, whom she calls 'a ball of cuteness', she shared shortly after his birth, "He looked at me and smiled at me and I just melted." She also laughed about how lucky her father is to enjoy four different avatars of fatherhood, adding, "This child is going to bring even more joy and excitement to my father and Kareena's lives, and I couldn't be happier for them."
‌
Mama's Girl & Proud of It!
While Sara Ali Khan hits it off with every member of her large and extended family, it's clear that she's her mother's daughter all the way. Once asked whether she made all the important decisions in her life, Sara had quipped, "Have you met my mother (Amrita)? I don't!" Sara has never made a secret of the fact that her mother is the biggest influence in her life, her "strength, motivation and inspiration," and that she hopes to be 10% of the woman her mother is. She has also spoken about how happy it makes her to see her mother in a happier and more positive space today. Even at the age of 9, she had the maturity to understand that two people (her parents) staying together in one home were not happy. When they moved on with their separate lives, they were in an "infinitely happier and in a much more positive space today". "I see my mom laughing and joking and being silly, which is something I have missed for so many years. It's a joyful relief to see her like this again," she shared.