The high priest of Indian fashion, Tarun Tahiliani is a name that is synonymous with India Modern.
By Nichola Marie
Launching at a time when fashion as an entity in the country didn't exist, Tarun Tahiliani was unanimously dubbed the "Armani of India" because of his inherent sense of finesse and elegance. Going from strength to strength, he has not only made traditional look spectacular but has constantly matched quality with increasing volume. Carving a gigantic success story that includes a 1000+ team of designers, master-craftsmen, tailors, drapers, and seamstresses, he remains entranced by design which, to him, is "evolutionary but absolute."
Son of the first woman engineer in Maharashtra and an admiral in the Indian Navy, you are also an MBA from the Wharton School of Business. Looking back, what were the sparks that fired your unexpected interest in fashion and design?
One day, this big fashion show by Pierre Cardin came to Bombay. My wife, whom I had met in college in New York, went to see if she could be an usher or help out in any way, and she got picked to model in the show. And that is how I saw my first fashion show. I was fascinated. I thought: My God, I have always sketched, but I never knew this existed. It was lyrical, poetic, effortless and utterly beautiful. It really was perfection. I came back and sketched and sketched. Simultaneously, my wife started modelling. I accompanied her to a campaign she was involved in. There, this famous makeup artist Mickey Contractor, Rohit Khosla — who was the designer in charge of the campaign and had just returned from New York — and I talked about how there was so little being done in fashion in India; there was so much talent that was going outside.
We saw beautiful things abroad, but we couldn't find anything in India. That night, my wife had the idea of starting a store to promote Indian design. Women in our generation were finally switching to jeans and dresses.
Our family business had an abandoned warehouse space which we were given permission to use. That is how the idea of Ensemble was born, which was the first multi-designer store in India. It was a nice big space — bare, minimal and modern — and it was shocking when it opened (1987). Everything was made in India and the clothes looked like they belonged in a gallery or a museum like the Metropolitan Museum of Art.
What prompted your desire to enrol in the Fashion Institute of Technology (FIT) in New York City and earn an associate degree?
Once, there was this big French festival in India with Yves Saint Laurent, who was a genius of his time. There would be a competition and they were going to take back three people — one designer, one model and one photographer — on a three-month exchange fellowship to France. I made it to the finals, but then there were some dynamics where someone was trying to get someone else in, and the French got cheesed off. So, they decided to take two models and drop the designer category. And I really went into depression. I thought, forget if I never got in, but is there really no Indian designer good enough to go even for an apprenticeship for three months? Finally, my wife told me to stop moping. "If you want to do it, then go and learn," she said, and that is how I went to study design for a year at the Fashion Institute of Technology, New York. I would have otherwise fallen flat on my face. I was very lucky to have someone like my wife to push me and believe in me.
In 1995, as your technical knowledge in design grew, you chose to move from Mumbai to Delhi and founded the Tarun Tahiliani Design Studio. Tell us how Delhi fuelled your creativity and shaped your design language…
We settled into an "urban village" in Chirag Dilli, with a design team of six tailors and four other members. Delhi's close proximity to the crafts belt in Lucknow, Bareilly, and Jaipur also provided easy access to a vast variety of artisans and a plethora of fabrics. While Bombay (Mumbai) was an important starting point in my journey as a designer, it was Delhi that fuelled my creativity and shaped my design language. It showed me a new India – away from the Anglicised schools and clubs and military establishments. For me, this was the real India.
As the studio grew, we shifted operations to a more expansive space in Mehrauli, located adjacent to the Qutub complex. This was an important period for me as a designer: While my style continued to reflect a particular Indianness, my structured designs were a break away from tradition. And in 2010, we moved to our current atelier in Gurugram, which is a 45,000 sq ft space that houses a trusted 1000+ team of designers, master craftsmen, tailors, drapers, and seamstresses.
In 1999, along with six other designers and a businessman, you came together to form the Fashion Design Council of India (FDCI), paving the way for India's very own Fashion Week-cum-trade show. What was the motive behind this?
Setting it up came from a sense of creating a belonging and it was the need of the hour. It came from an interest of the designers to create a marketplace for fashion in India. The whole is always greater than the sum and we wanted to create a platform that represents Indian fashion and celebrates innovation and design.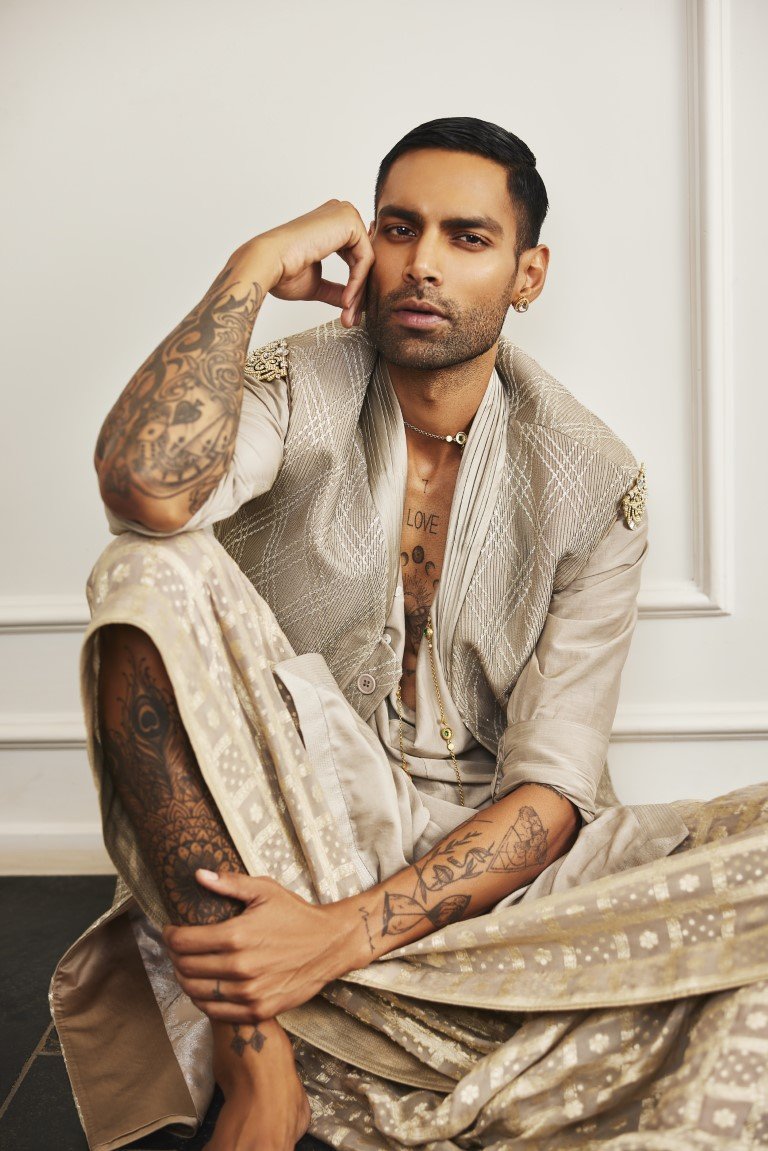 In September 2003, you became the first Indian designer to showcase at the Milan Fashion Week. What did you bring to MFW and what did you take back in terms of new learnings?
We were there at a good time too; the world was finally paying enough attention to the talent and versatility of the Indian fashion industry. We showcased jewel trompe l'oeil T-shirts with medieval Mughal miniatures, tone-on-tone chikan separates, saris and bridal lehengas to an audience sitting in the Palazzo della Permanente. For us, this was the birth of the signature 'India Modern' Tarun Tahiliani design aesthetic.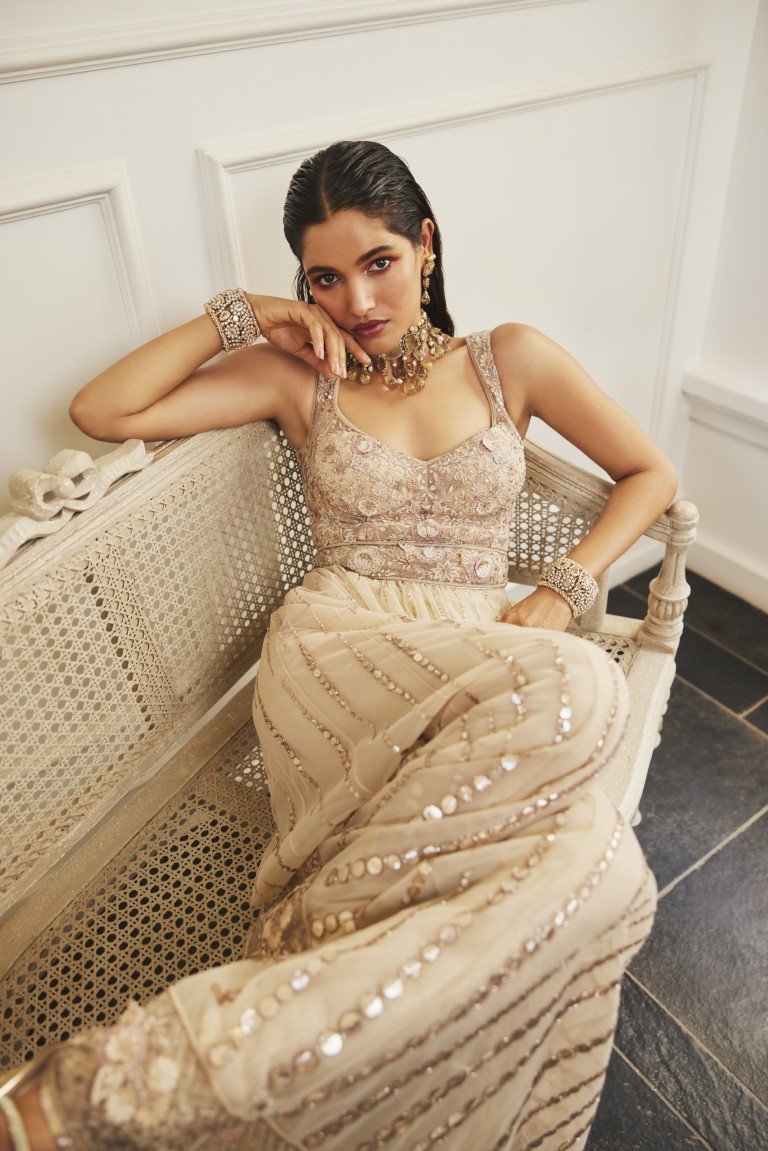 Over the decades, which are some of the key techniques and structures that the Tarun Tahiliani studio has innovated and developed?
Over the last 25 years, the studio has developed techniques and structures that are synonymous with our brand. Our signature drapes, our world-class corsetry, the sheer bridal veils, structured fluted blouses, intricate kaashida, and the craft of chikankaari, and fine crystal work are a few of the elements that are integral to the studio.
Your 45,000 sq ft atelier houses a 1000+ strong team of designers, master craftsmen, tailors, drapers, and seamstresses. What is it like here on a normal day?
A normal day is very much like that, as I would imagine most people get to work between 8 and 8:30 a.m. to avoid the traffic. By this time the factory is buzzing, and so I do one walk around just to look at all the pieces that are on the floor, which I might not see normally, and through the two-three ateliers that are doing new things, and by that time I am pretty much in my mood board room carrying on from the day before. I really like to keep my mornings for design meetings because once I get into more admin or other stuff, it is hard to go back. Some days, we have fittings; normally, I have lunch at 12:30 – 1 p.m., and I try to leave by 4:35 p.m. so we have missed the traffic coming back into town. I normally carry stuff back with me so that after my workout, I can do a couple of hours if I need to. However, today, with WhatsApp and emails, you are at work constantly, just not physically in the studio. There was a time I spent a lot more time going out to embroidery units and all, but now it comes to me. On days that I do TASVA, I go across to the TASVA building, which is three-four buildings away, and there are always a million things to do with our stores and the new factories. At the moment, we are completing projects, but otherwise I would go to the architectural office and work over there. (TASVA, a joint venture between the House of Tarun Tahiliani and Aditya Birla Fashion and Retail Ltd (ABFRL), was launched in 2021 as a more relaxed and affordable alternative to celebrated menswear.)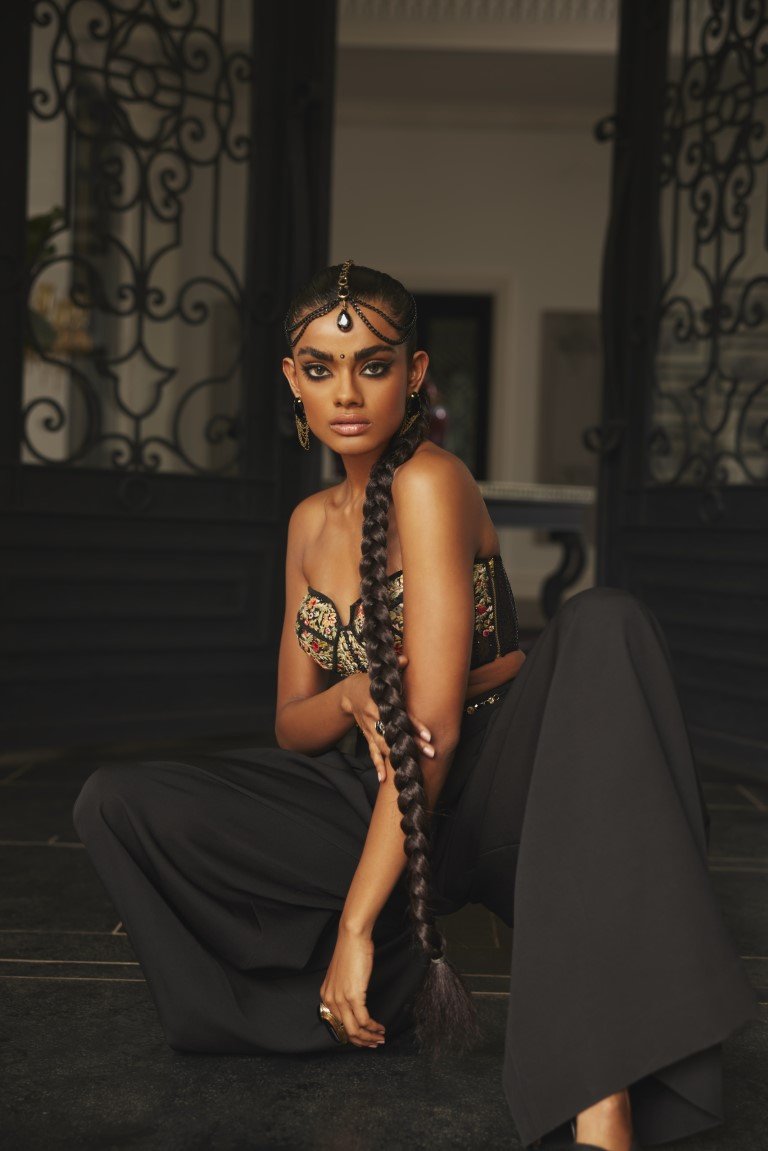 Is the desire to grow ever satiated? Any goals yet to be achieved?
Unfortunately, in this sort of business, unless you stay very small and couture, I think you are only going to keep great talent if they grow – and you have to grow for them to grow, for everyone around you to grow. So, it is a very, very competitive environment. Unfortunately, it is also viewed as a relative game, so without dropping standards, which is the easiest thing to do, one has to see how one can find the right balance between growth and quality. I keep telling everybody that my lifestyle is not going to change, no matter how much we make. I loathe to give up things just for the sake of growth.
Your wife Sailaja (Sal) Tahiliani, and sister Tina Tahiliani Parikh have also been part of your design journey. How has their contribution enhanced the brand?
I think the biggest contribution of Sal was that she got me into fashion and literally led the way because I was clueless, and Tina kept it going when we went off to study and partnered with me for many years. Now, of course, she has her own retail company, which is ENSEMBLE, and we run it. Sometimes, you need people who will just tell you the brutal truth, as Sal does. That is invaluable, apart from everything else.
Are your sons Jahan and Anand interested in stepping into Tarun Tahiliani Design Studio?
Jahan and Anand are not interested in stepping into the design studio from a design point of view, but I suppose by being around it, there is some level of osmosis. I think that I have many great people being groomed in the company whom this company should logically pass on to for its future, just as European brands have shown to be possible. They will be the real custodians of the brand.
Do you strike the elusive work-life balance?
I probably did not strike the work-life balance, and let me tell you, even at this stage, I work harder than I did before, but at this point, I barely go out, so I think I have the balance, have the time to exercise, have the time to read, and since I am not very social, I do see the few people in my family.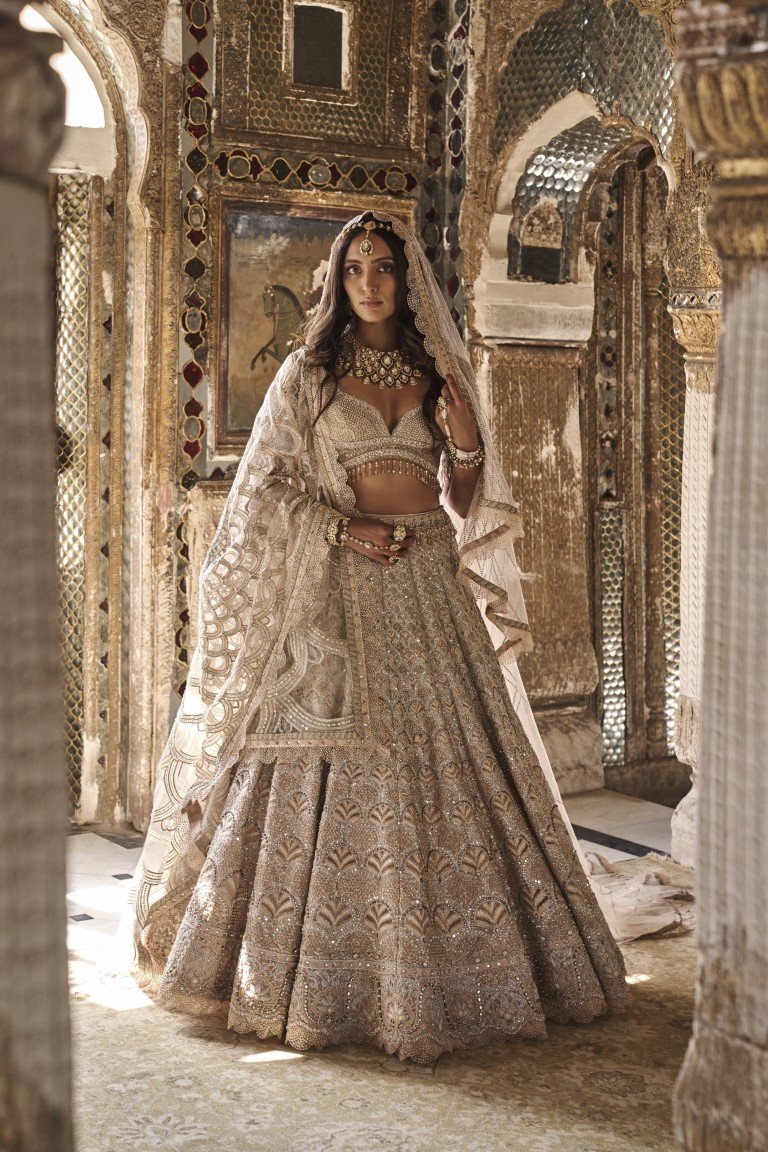 To you, design is…
…evolutionary but absolute!